Comparison of Master Black Belt (MBB) Certification Programs
A Side-by-Side Analysis of the MBB Programs at MoreSteam/The Ohio State University, Bisk Education/Villanova University, BMGI and ASQ
Advanced certification combines training, testing, and project work. It's a big commitment of time and money for you and your organization. The program you select must be rigorous, meaningful, and rooted in real life.
What Separates the Best MBB Program from the Others?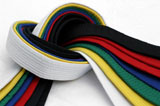 MBB-level training assumes that you have a mastery of the Black Belt body of knowledge prior to beginning the program. To even qualify for an MBB certification program, you need several years of experience as a Black Belt and a portfolio of successful projects.
The best certification programs are distinguished by:
An emphasis on real-world projects and application, and
A training curriculum that covers a broad range of advanced leadership, management and technical skills.
Not surprisingly, available programs show a great deal of variation in the above two factors.
Caveat emptor: Some MBB programs cover only a minimum of topics, others require little or proof of real-world experience, and a few push speed of graduation over the thoroughness of education.
A Complimentary Program Comparison Guide
Choose the MBB Certification Program that will help you build your portfolio of capability
A legitimate Master Black Belt certification program must include:
Training for leadership skills (e.g., change management, coaching)
Training for management skills (e.g., finance, negotiation)
Training for technical skills (e.g., advanced stats, advanced Lean, simulation)
Examination to test your knowledge
Requirement for portfolio of successfully completed projects
Requirement for successfully coached projects
Proof of communication skills (e.g., writing or speaking experience)
To help make your decision easier, we've created a guide that compares the OSU/MoreSteam program with three other popular programs: Bisk Education/Villanova University, Breakthrough Management Group Inc. (BMGI), and the American Society for Quality (ASQ).
We hope that you find the comparison helpful, and we're glad to answer any questions you may have concerning the specifics.