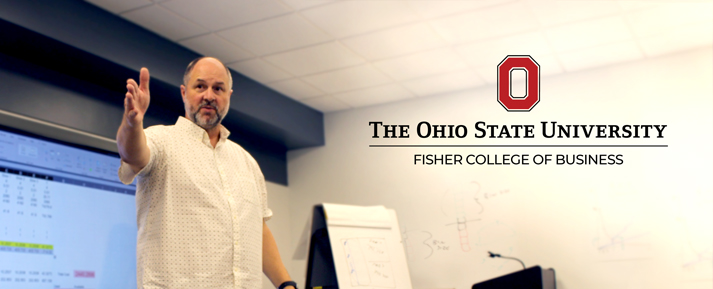 Lean Six Sigma Master Black Belt Training & Certification
The Fisher College of Business at The Ohio State University has partnered with MoreSteam to present an innovative Lean Six Sigma leadership program. Flexible scheduling allows you to complete MBB certification in as little as 6 months or you may extend it over a longer period.
Attend two 1-week workshops at The Ohio State University and pass the class exams
Complete Fundamentals of Project Management & Design for Six Sigma courses online
Share your knowledge in an external presentation/publication
Blending the Best of Online & Classroom Training

WHAT: Our Lean Six Sigma Master Black Belt development program integrates classroom instruction on the campus of The Ohio State University in Columbus, Ohio with online learning on advanced topics provided by MoreSteam.

The curriculum covers: Design for Lean Six Sigma, Fundamentals of Project Management, Advanced Statistical Tools, Advanced Lean Methods, Process Modeling, Leadership and Coaching, and Financial Analysis.

Download the Master Black Belt Datasheet.

WHO: The program is designed for experienced Lean Six Sigma Black Belts who are prepared to advance their mastery of the technical and leadership subjects that comprise the Master Black Belt body of knowledge and practice.

HOW: Training consists of two weeks of classroom instruction on The Ohio State campus integrated with two weeks (71 hours) of online learning from MoreSteam.com. The faculty is provided by OSU's Fisher College of Business and MoreSteam. Classroom weeks are scheduled on a quarterly basis, and you may start in any sequence.

WHY: Because it's time for you to receive the next level of recognition.
Once you have completed the coursework and developed enough experience, you are eligible for the certification process. Graduates receive a Master Black Belt Certificate from The Ohio State University.

The Ohio State and MoreSteam program is based on a Blended Learning model. The curriculum incorporates world-class instruction delivered in:

Two weeks of classroom instruction (80 hours) on the Fisher College of Business campus, and
71 hours of online learning through the MoreSteam.com portal.

Training is then followed by testing, verification of experience, an oral interview and other certification requirements. When you have completed these requirements, you will be awarded certification through The Ohio State University.

Structure

Classroom Sessions

You can attend the classroom sessions in any order. They are scheduled on a quarterly basis at OSU (see below for the current training schedule). The faculty is provided by Ohio State's Fisher College of Business and MoreSteam.

Online Courses

You can access and complete the online components at your own pace during the intervals between on-campus sessions. All you need is an Internet connection, course login and password to get started.

Topics and Timing

Online Coursework
Details
Duration
Design for Lean Six Sigma
Process Modeling Intro, Monte Carlo Analysis, Advanced DOE, RSM, Robustness, Design of Lean Systems
46 Hours
Fundamentals of Project Management
Aligned with PMI's PMBOK
15 Hours
MBB Supplement
EWMA, CUSUM Control Charts, Review of Non-Parametric Statistics, Logistic Regression, Ideation Tools - TRIZ
10 Hours
TOTAL HOURS
71 Hours
*LSS Black Belt
Full online course provided as reference. Use as needed to refresh your knowledge before attending classroom sessions.
139 Hours (optional)

Classroom Topic
Details
Duration
Advanced Stats & Leadership Week
Advanced Statistics
GLM, Binary Logistic Regression, Time Series Tools, Advanced ANOVA, Non-Parametric Analysis, MANOVA, Advanced DOE, Data Problems
28 Hours
Leadership and Coaching
Leading Teams, Managing Change, Effective Coaching
12 Hours
Advanced Lean & Finance Week
Advanced Lean Tools
Establishing Internal and External Pull Systems, Queuing Theory
16 Hours
Process Modeling
Discrete Event Simulation, Monte Carlo Simulation, Optimization
16 Hours
Financial Analysis
Understanding a P&L, ROI, Soft Benefits, Lean Accounting
8 Hours
TOTAL HOURS:
80 Hours

This Master Black Belt development program is:

A balanced, relevant and rigorous curriculum
The Master Black Belt program covers the skills you'll need to succeed: leadership, coaching, advanced statistics, finance, and more. It also includes advanced Lean and process modeling, two vital topics areas not covered by other Master Black Belt programs.
A flexible blended model
With Blended Learning, the student controls the pace. You can start any online course at any time, and you attend the classroom weeks in any order.
Highly qualified instructors
The program faculty, from OSU and MoreSteam (listed below), represents decades of professional Lean Six Sigma experience and affiliation with an internationally recognized university.
The right price
The cost of Master Black Belt certification varies widely, as does the quality of the program. Our blended curriculum delivers deep content at an affordable price. There are no extra fees for certification or exams.

Qualified Candidates

Admission to the program is by application. Admission requirements include prior Black Belt certification and at least five years of process improvement experience, including three years as a Black Belt. This rigorous program assumes a mastery of the full Black Belt body of knowledge as a foundation.

Does your Black Belt qualify?

Many third party training providers and certification programs do not cover the full Black Belt body of knowledge, as we apply it. Please review the body of knowledge to identify and resolve any gaps prior to starting the program: Certified Black Belt Body of Knowledge.

One advantage of this program is that you can take the following live and online classes in any order.

WORKSHOP SCHEDULE:

Each workshop is usually offered twice during the year in Columbus, Ohio.

Advanced Stats & Leadership Class (40 hours in-person):

Next sessions:

March 2022
September 2022

Advanced Lean & Finance Class (40 hours in-person):

Next sessions:

November 15-19, 2021
May 2022
November 2022

e-Learning (Online Coursework):

On-demand training:

Design for Lean Six Sigma
Fundamentals of Project Management
MBB Supplement

The program cost is $12,900, which includes the certification candidate evaluation process.

Note that most other Master Black Belt training programs cost twice the price of this program and require four weeks or more of classroom time. Not only is this program more affordable, it allows you far greater flexibility and control over the pace and order of your studies.

The enrollment fee covers all costs for courses and materials, although program participants must have access to a laptop loaded with the latest version of Minitab. You can begin your enrollment by contacting MoreSteam.

* Rescheduling Fee: A rescheduling fee of $500 will apply for changes made within four weeks of the scheduled classroom training.
* Refunds: No refunds will be granted within 90 days of your first scheduled classroom session.

Material Provided by MoreSteam

The course content includes a host of reference materials, video tutorials, practice data sets (provided as Microsoft Excel files) for engaging in statistical analysis, and an easily printed workbook for both note taking and additional exercises.

Material Provided by Student

MoreSteam eLearning is provided entirely online; all you need to access and make use of the course content is an internet connection, a modern browser and spreadsheet software. Please review the system requirements below.

Our instructors are available to answer your questions and help you to prepare for your final project portfolio review.

When in your online training courses, you can use the on-screen Help features (e.g., glossary of terms and site search) for information. You can contact the Course Instructor by email during regular business hours to request assistance.

For general e-Learning technical support, you can visit our MoreSteam University support section, where you can search through our online knowledgebase. You can also send us a support request.

The following are system requirements for MoreSteam eLearning:

Operating System:

Microsoft Windows (7 and higher) or Apple Mac OS X
Microsoft Office®: English-language (U.S.) version 2007 or higher.

Network: Microsoft Excel must be running locally. EngineRoom will not perform correctly if you are running Microsoft Excel over a network as a distributed application.
Versions: Only one version of Microsoft Excel can exist. EngineRoom will not perform correctly if there are multiple versions of Microsoft Excel installed on a single computer.
Macro Security: EngineRoom contains macros; therefore Microsoft Excel macro security must be set to medium or lower.
Toolpaks: The Microsoft Excel Analysis Toolpak and Analysis Toolpak VBA must be installed.

Display Properties Setting:

Minimum 1024 x 768 screen resolution.

Audio:

Optional audio in course.

Browser:

Adobe Acrobat Reader:

Latest version
Note: The course content requires that any pop-up blocker be disabled.
Common Questions
What will I learn in this program?
In conjunction with leading process improvement deployments, MoreSteam and The Ohio State University Center of Operational Excellence have established a rigorous, advanced curriculum as the basis for this Master Black Belt development program.
Download the Master Black Belt Body of Knowledge for full details.
Does the order of training matter?
Not at all. You can take the classroom weeks in whichever order you would like, and the online training is on-demand. You will need to have all of the training completed before you can begin the certification process.
Is there a central portal for information?
Yes. When you enroll in the program, you will be given access to a convenient class Web portal, along with course information, schedules, and other pertinent information.