Lean Six Sigma Yellow Belt
Gain a broad understanding of Lean Six Sigma by completing this popular eLearning course, created by the world's leading provider in process improvement online training.
Overview
Comprehensive Yellow Belt training presented in the DMAIC format (Define, Measure, Analyze, Improve, Control)
Includes more information and interactive exercises than other eLearning Yellow Belt courses
Superior instructional design with user-friendly navigation
Clear & compelling content
Extensive practice opportunities, including simulations, interactive exercises, and skill checks
Videos to walk you through difficult concepts
Easy access from your computer, tablet, or phone
Course access for a year
Flexibility to work at your own pace
No prerequisite necessary
Open enrollment — start whenever you are ready
Price: $750 (plus applicable sales tax)
Group & Academic pricing available. Contact us for information.
40+ practice exercises

Graphic animations bring concepts to life.

Take 2 videos illustrate key lesson points.

Create a personal review sheet with the notes & highlighting feature.

What have you missed? See a summary of all the learning aids on your personal dashboard.
What's Included / Features
28 hours of training

Instructor and technical support

Customized training for healthcare, finance, service, and general industry

Available in eight languages: English (EN), Chinese (ZH), German (DE), Portuguese (PT), Spanish (ES), French (FR), Italian (IT), and Polish (PL)

Includes a free one-year subscription to EngineRoom software ($300 value)
Skills Covered
5 Lean Principles

8 Forms of Waste

DMAIC — The Improvement Process

The Source of Value: Gemba

Process & Value Stream Mapping

Cause and Effect Diagram

Benchmarking

Error-proofing

Continuous Flow

Standardized Work: Documenting Process Changes
Course Benefits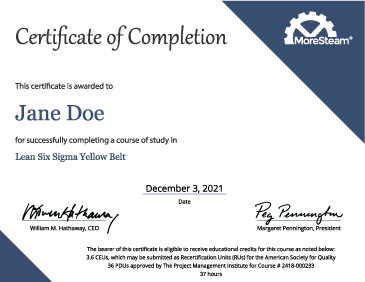 Certificate of completion
8.4 CEUs eligible to be claimed
84 PDUs eligible to be claimed
Job Opportunities
Average Salary for a Yellow Belt in the U.S.: $92,159*
Train using the same trusted course material used by more than half of all Fortune 500 companies and top universities around the world, including: Google, Rolls-Royce, Lockheed Martin, GE, Nationwide, The Ohio State University, University of Notre Dame, California Polytechnic State University (Cal-Poly), and Indiana University
*Source: 2020 QP Salary Survey (ASQ)
Course Outline
No prerequisite necessary
6 sessions, providing comprehensive base of Lean Six Sigma Yellow Belt knowledge
Begin whenever you're ready and work through each session at your own pace
SESSION 1: Introduction to Lean Six Sigma
– 5 Lean Principles, 8 Forms of Waste, Lean Six Sigma Framework
SESSION 2: Tools to Define
– Voice of the Customer, Process Thinking, Source of Value, Flow Charts, Value Stream Mapping
SESSION 3: Tools to Measure
– Baseline Performance, Measuring Central Tendency, Quantifying Process Variability, SPC Introduction and Background
SESSION 4: Tools to Analyze
– Cause & Effect Diagram, 5-Why, 1-How, Scatter Plots, Correlation & Regression Analysis
View Full Outline
Realistic examples show details of how tools are used.

Step-by-step instructions make it easy to follow along and create your own example.

Terms are explained in common language and often drawn to clarify understanding.

Side links offer a variety of resource materials related to each lesson.

Hands-on practice is included for each tool. Redo the practice exercises as often as you like.
Content Experts
Course material written by industry experts with years of experience, making this the most comprehensive and beneficial online Yellow Belt course available.
Testimonials & Reviews
"The course is well worth it. It gives you step-by-step examples and is very, very helpful with getting you Lean Six Sigma certified."

– Terrance, College of Lake County

"I was worried about losing 28 hours out of my busy schedule. Now that I have completed the course, I am happy to say it was time well spent. I will put these learnings to work immediately."

– Joseph, Hewlett–Packard

"The practical examples were very helpful. They made it easier to learn and apply the concept."

– Amy, Constellation Energy

"The course was more professional, thorough, and the closest simulation to traditional teaching than anything else I have experienced."

– Noah, PPG Industries

"I really enjoyed the course. The interaction between the theory and practice sessions was helpful. I would recommend it to any company wanting to introduce Six Sigma to their employees."

– John, Manitowoc Company
Want to learn more?
CONTACT US TODAY...

Frequently Asked Questions
How do I access the course?
You can access the course anywhere you can get on the Internet — simply log in to the MoreSteam.com portal from your computer, tablet, or phone.
Will I receive certification when I'm done with this course?
No. There is no official certification for a Yellow Belt, as there is with the more complex Green Belt or Black Belt. Those certifications require advanced coursework, an online exam, and project completion. However, companies looking for proof of Yellow Belt experience will be satisfied with your Certificate of Course Completion, which you will receive after finishing all of the course quizzes.
How long does Yellow Belt training take?
You have 365 days to complete the course, which represents about 28 hours of training, not including any external project work you may choose to complete.
Do I need a project to complete the training?
No. We do not require a project for training, though we strongly recommend that you accompany the coursework with a meaningful project. A real-world project will significantly enhance the learning experience because you can use it to directly practice the concepts and tools as you complete the course. Successful project work is also required for any certification process.
Do you offer pricing discounts for groups of trainees and deployments?
Of course! Many of our larger customers send tens to hundreds of employees through Yellow Belt training. Please contact us directly to discuss your specific needs.
Why Choose MoreSteam?
MoreSteam.com is the world's leading provider of online training, certification, and technology for Lean Six Sigma. By choosing us as your source of training, you will join a network of more than 600,000 professionals across the world, representing more than 50% of all Fortune 500 companies and several prestigious universities.
Simply put, we offer the most comprehensive and beneficial online Lean Six Sigma training available, and we pride ourselves on preparing students to thrive in whatever industry they pursue.