Master Series: Mapping Your Workflows
Peg Pennington, President - MoreSteam.com

You cannot improve what you do not see.
In this increasingly complex world, we are pressed to improve processes by applying technology fixes to components of the value stream. We mistake action for forward progress. Sometimes we need to go slow, to go fast. Going slow means understanding the end-to-end processes, the key performance measures, and the people that work in the value stream.
Go see, ask why, show respect. Take the first step toward improving a process and truly understand the process and how it's performing.
Master Series: June 23 & 30 at 1:00-2:30 PM Eastern
Join us for this new blended program combining live broadcasts with a short eLearning course. Lean practitioners, new and experienced, will find this curriculum to be a helpful workshop focused on how mapping tools work together to progress project work. Mapping nuances and hybrid customizations will be discussed. Participants will be expected to complete a short project assignment provided by the instructor.
After completing the Series, you will be able to:
Discuss the foundational principles of Lean.
Apply process thinking to identify the steps that generate value to the customer.
Understand why, when, and how to use a variety of process mapping tools. SIPOC, Value Stream Maps, Value-added Flow Charts, and Spaghetti Diagrams will be covered.
Identify opportunities for improvement by reducing hand-offs, waiting, re-work, and other non-value added activities.
Registration Fee = $150. Course and Software Included.
If you have a process that needs improving and you like to solve problems, this program is for you. No flip charts required! We'll be saving a few trees and showing you how to create process maps digitally.
Included in the Workflow Mapping Master Series:

Two 90-minute virtual sessions led by Peg Pennington
Tools to Map Workflows & Process Performance online course (4.5 hours) - See the Course Outline
180-day full access subscription to EngineRoom® software with Process Playground
Downloadable certificate of completion after requirements are fulfilled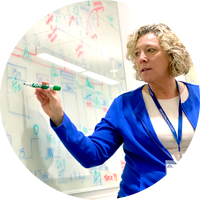 Peg Pennington, President - MoreSteam.com
Peg Pennington joined MoreSteam's executive team in 2018, bringing her passion for team-building and problem-solving to her role as company president. With over two decades of experience as an educator and process improvement thought leader, she's the perfect fit to lead the daily operations of our company.
You'll experience Peg's enthusiasm and expertise during this latest Master Series. Prior to joining MoreSteam, she served as Executive Director of the Center for Operational Excellence at The Ohio State University and instructed in the OSU Masters in Operational Excellence and MBA programs. Peg believes critical thinking and problem-solving should be core competencies of organizations and enjoys working with clients to advance their OpEx deployments.