Suggested Readings
This page highlights the books we regularly recommend in MoreNews, our online monthly newsletter for Lean Six Sigma news and resources.

Author: J. Richard Hackman
Harmony vs. conflict, stable teams vs. mixing it up, face-to-face vs. virtual --- find out what leads to more productive team collaboration. Read the blog on six common misbeliefs about teamwork identified by J. Richard Hackman in his research at Harvard University. Hackman expands on these misperceptions in his book published this year, Collaborative Intelligence: Using Teams to Solve Hard Problems.

Author: Avinash Kaushik
A business today without a Web presence is unthinkable. Yet, many businesses, especially small businesses, do not have a firm grasp on their data-rich environment beyond collecting clickstreams.
Published in 2009, Avinash Kaushik offers a new framework in Web Analytics 2.0: The Art of Online Accountability and Science of Customer Centricity. This books talks in a very user-friendly way about leveraging outcome analysis, voice-of-customer initiatives, the power of experimentation and using competitive intelligence data to truly understand your competitors.
Kaushik covers everything from basic Web analytics tools to the latest in mobile analytics. The book comes with an accompanying CD that includes some great multimedia content such as videos, podcasts and other resources to drive home the points in the book.

Authors: Freddy and Michael Ballé
If you're looking for reading material to moderately exercise your brain, you might be interested in The Gold Mine: A Novel of Lean Turnaround by Freddy and Michael Ballé.
Sharing Lean philosophy in the format of a novel, the book follows a retired sensei as he helps to save a friend's struggling factory. "You have a leadership problem not just a production or business problem," he advises his friend as he redirects the focus to the people-side of the operation. Many have found this introduction to Lean concepts and tools to be an enjoyable read.
Of additional note, the Lean Enterprise Institute has published A Leader's Study Guide to The Gold Mine authored by Tom Ehrenfeld. Ehrenfeld provides chapter summaries, suggested discussion points and recommended resources that Lean project teams may find helpful.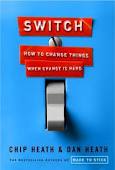 Authors: Chip and Dan Heath
Treat yourself to one of the outstanding reads from 2010: SWITCH: How to Change Things When Change is Hard. Brothers Chip and Dan Heath have crafted a fascinating account of how we as humans deal with changes large and small.
Boiling down decades of fascinating research on the psychology of change, the authors keep you riveted through a series of memorable anecdotes on successful change. These disparate stories work together to support their main thesis: that there are effective ways to change our behavior even when such change seems insurmountable.
Using a three-part framework of Directing the Rider (guiding our intellectual state), Motivating the Elephant (connecting our emotional state), and Shaping the Path (making the process easier), the authors explain how you can successfully approach change, whether it's personal, societal, or organizational. While significant change is never as easy as it sounds, this book will deliver at least a few new ideas and tools to your process improvement efforts.
Authors: Kerry Patterson, Joseph Grenny, David Maxfield, Ron McMillan, Al Switzler
The success of a project is a direct function of the effectiveness of the project team members. Oftentimes, team members must adapt their behaviors and get out of their comfort zones to work collaboratively to push a project over the finish line. However, statistics are cited that say "we're more likely to fail than succeed at changing our behavior."
How can those changes best happen in the course of a project timeline? In Change Anything: The New Science of Personal Success, the authors identify six sources of influence that shape our behavior, and it's not all about willpower. It's a quick, easy read that reminds us that our environment and the company we keep can support or deter our success with change.

Author: John Shook
Managing to Learn: Using the A3 Management Process to Solve Problems, Gain Agreement, Mentor, and Lead presents A3 as a management process, rather than a simple communication tool or problem-solving technique.
The center of the process is the simple, but elegant A3 Report. An A3 puts the problem, analysis, corrective actions, and action plan on a single sheet of large paper. A3 is the international term for an 11-by-17-inch sheet of paper.
The book is presented in a very readable format providing clear instruction on how to write an A3 Report as well as how to use the A3 process. That makes it a good reference for insights into the mechanics as well as the soft side of the process. A sampling of completed A3 templates is included at the end of the book. One of our corporate clients suggests that "every Black Belt should read this book."

Author: Atul Gawande
Here's a favorite quick read from a couple of our corporate clients --- The Checklist Manifesto: How to Get Things Right by Atul Gawande. Gawande suggests that errors are made in today's scientifically advanced world not due to ignorance, but because we fail to apply the knowledge we have consistently and correctly.
Compelling examples of reviving patients and landing a crashing airplane illustrate how work teams have achieved a 'team' save instead of depending on a single individual to make a heroic save. The source of the team saves? Build group intelligence into a simple checklist. Applying this idea to a 90-second surgical checklist reduced deaths and complications by over one-third in eight hospitals around the world.
Gawande is a practicing surgeon, professor at Harvard Medical School and the Harvard School of Public Health, and also leads the World Health Organization's Safe Surgery Saves Lives program.

Authors: John Toussaint and Roger A. Gerard
Looking critically at the healthcare industry -- who isn't -- it's notable that the same industry that brought breakthroughs like targeted cancer drugs, implanted defibrillators, and organ transplants has been slow to apply scientific methods to the processes that deliver those breakthroughs. Companies have been following the Lean path forged by Toyota for sixty years. However, transactional environments such as hospitals have been much slower to deploy Lean and Six Sigma methodologies.
On the Mend: Revolutionizing Healthcare to Save Lives and Transform the Industry offers an impressive best practice story sure to challenge other healthcare providers. Authors John Toussaint, MD, former CEO of ThedaCare, and Roger A. Gerard, PhD, its chief learning officer, share the seven-year journey that they led to lean healthcare at ThedaCare, a mid-sized, cradle-to-grave healthcare provider in Wisconsin.

Author: Jonah Lehrer
Since the time of the Ancient Greeks, philosophers have debated about how we make decisions. Some are emotional and some are rational, right? It turns out that, as modern scientists work to uncover the mysteries of the human brain, the truth is far more complex - and fascinating.
In his book How We Decide, author Jonah Lehrer tackles the complex issues surrounding exactly how we make the important and the daily decisions in our lives. Lehrer begins by distilling the most recent lab research to show what scientists have learned about the brain itself. Armed with this knowledge, he then leads us through a dizzying array of scenarios - flying, sports, warfare, poker, investment, firefighting - to show how the brain makes decisions in the context of the real world.
Author: Shin Takahashi

Authors: Larry Gonick and Woollcott Smith
If you're looking to supplement your statistical reference library with a handbook that offers a non-traditional approach, then you might be interested in The Manga Guide to Statistics. This book was translated to English in 2009 from a best-selling series written by Shin Takahashi in Japan. It is an introduction to basic statistics, starting with data types and progressing to hypothesis testing.
At first glance, the Anime cartoon strips in the book seem to target a high school audience. Maybe that's true, but when you're trying to keep your p's, t's, and z's straight, it sure is nice to lighten the mood. Each of the seven chapters includes not only the cartoon to introduce a concept, but also a clearly written text explanation, and an exercise with solution.
Another alternative to lighten your book shelf, The Cartoon Guide to Statistics, is an entertaining introduction to statistics that is still selling to stats profs and trainers after seventeen years. Its wit has universal appeal.
Authors Larry Gonick and Woollcott Smith suggest that if you graphed the mean mass of rat droppings under statisticians' fingernails over time, the curve steeply descends and approaches zero. Don't forget --- the results are only as good as the data.

Author: Peter Senge
The original version of The Fifth Discipline was published in 1990 and honored by Harvard Business Review as one of the seminal management books of the past 75 years.
This updated edition of Peter Senge's classic contains over 100 pages of new material including a new Forward sharing his fifteen years of experience in putting the book's ideas into practice. The revision also added interviews with practitioners at organizations such as Unilever, Intel, Ford, HP, and The World Bank.
In The Fifth Discipline - The Art & Practice of The Learning Organization, Senge distinguishes a learning organization from more traditional organizations by their integration of five 'component technologies': systems thinking, personal mastery, mental models, building shared vision, and team learning. It's a read worthy of periodically pulling off the shelf. We need to remind ourselves how important the underlying, softer side is to the ongoing success of Lean Six Sigma and business process improvement in general.

Author: Edward Tufte
Pictures shape our understanding of everything. It takes more than being an Adobe geek to effectively use images for their greatest impact in illustrating complex concepts. Anyone who compiles reports filled with charts and graphs or compiles PowerPoint slide presentations will benefit from the guidance offered by Edward Tufte.
Never heard of him? Tufte has received more than 40 awards for content and design. He is Professor Emeritus at Yale University, where he taught courses in statistical evidence, information design, and interface design.
Beautiful Evidence, Tufte's fourth book on analytical design, looks good enough to put on your coffee table. Beyond its visual appeal, it contains a number of ideas for getting rid of "chartjunk" in favor of high impact informational graphics. His design principles are basic: Show comparisons. Show causality. Think multivariate; show multivariate data. He advocates "sparklines," wordlike graphics that can be used to present trends and variation. He also has some pointed guidance for PowerPoint templates: don't use them.
The book has received considerable critical acclaim. It was named to the list of "Best Innovation and Design Books" by Business Week, listed as one of the "Best Business and Technology Books" by ZDNET, and recommended by the editors of Scientific American.
You might also want to check out his original book, The Visual Display of Quantitative Information, deemed to be a classic book on pointing out the flaws in how statistics are frequently presented and suggesting ways in how these approaches can be corrected..

Author: Ian Ayres
This book is an all-time staff favorite. Why do we like it so much? It's all about data and data-driven decision making. The author, Ian Ayres, is a lawyer and an economist and finds a way to make a book about the "power" of numbers entertaining to read.
In Super Crunchers: Why Thinking-By-Numbers is the New Way To Be Smart, Ayres focuses primarily on regression and random sampling examples, but also explains a number of other statistical analysis techniques. He uses instances of real life "super crunching" - such as how Web sites like Amazon offer buying suggestions based on the observation that "consumers who bought this also bought that." Ayres has researched a wide variety of areas like pricing polices, affirmative action programs, car theft, weight reduction programs, etc. and explains the basic quantitative methods behind the findings.
Ayres is a columnist for Forbes magazine and writes for the New York Times Freakonomics Blog. He has been a public radio commentator and his research has been featured on a variety of televised news shows. Originally released in 2007, Super Crunchers has been a Wall Street Journal and New York Times business bestseller.

Author: Leonard Mlodinow
No, we're not referring to Bourbon Street on Fat Tuesday. We're suggesting something a bit more cerebral in the form of Leonard Mlodinow's book, The Drunkard's Walk: How Randomness Rules Our Lives.
The book is an entertaining and easy-to-read introduction into the development and application of probability theory. Meet famous mathematicians such as Bernoulli, Laplace and Pascal along with some lesser known, unlikely probability statisticians, a.k.a. routine gamblers. You will gain a good understanding of concepts such as regression to the mean and the law of large numbers. You'll also enjoy the real life illustrations such as Apple Computer making its iPod shuffle sequences less random in order to seem more random.

Author: Tim Brown
Tim Brown, CEO of the global design consultancy IDEO, works with organizations on everything from developing work furniture that automatically adjusts to body posture to addressing societal issues in developing countries.
In his new book, Change By Design: How Design Thinking Transforms Organizations And Inspires Innovation, Brown introduces the concept of universal design thinking. "Nobody wants to run a business based on feeling, intuition, and inspiration, but an over reliance on the rational and the analytical can be just as dangerous. The integrated approach at the core of the design process suggests a 'third way.'"
Change By Design, published late last year by HarperBusiness, was named one of the "Best Innovation and Design Books of 2009" by Business Week. In addition, Fast Company listed it as one of the "Best Business Books of 2009."

Author: Sam Savage
As the recent collapse on Wall Street shows, we are often ill-equipped to deal with uncertainty and risk. Yet every day we base our personal and business plans on uncertainties, whether they be next month's sales, next year's costs, or tomorrow's stock price. In The Flaw of Averages, author Sam Savage describes common avoidable mistakes in assessing risk in the face of uncertainty.
Savage, a professor at Stanford University, has a talent for presenting complex concepts in plain English. He shows why plans based on average assumptions are wrong, on average, in areas as diverse as healthcare, accounting, the War on Terror, and climate change.

Author: Douglas Hubbard
Have you ever been challenged to measure the "immeasurables" on a project such as customer satisfaction, organizational flexibility, employee morale, technology risk, or technology ROI? In his book, How to Measure Anything: Finding the Value of Intangibles in Business (2007), Douglas Hubbard busts the myth that certain things can't be measured.
Everything is measurable, he says, but we have to understand the uncertainty, risk, and the value of the information surrounding how to measure things. Hubbard suggests ways to reduce uncertainty by using various methods of observation including random sampling and controlled experiments. Case studies and detailed examples are cited across a variety of industries. This book would be a strong addition to the reference shelf of any MBB, BB, or deployment leader.

Authors: Charlene Li and Josh Bernoff
Blog? Twitter? Facebook? Learn how your organization can build better customer relationships with social media. Pick up a copy of Groundswell: Winning in a World Transformed by Social Technologies written by Charlene Li and Forrester Research exec Josh Bernoff.
Groundswell is published by Harvard Business School Press.

Author: John Medina
Brain Rules: 12 Principles for Surviving and Thriving at Work, Home, and School by John Medina, is a somewhat offbeat reading selection in the sense that the author is a developmental molecular biologist. Since most of us don't have a personal subscription to the Journal of Neuroscience, Dr. Medina offers to bring us into the brain science loop to better understand considerations for our work and training environments.
He opens the book by saying that if you wanted to create an education environment that was directly opposed to our natural brain functions, you'd build a classroom. If your objective was to build an anti-brain business environment, you'd design something like a cubicle. The book offers practical considerations for leaders, instructors, and presenters organized by 12 principles. While you're not likely to find groundbreaking insights in this book, you will find a fact basis for common tenets that have previously been undervalued and therefore somewhat ignored.

Author: Malcolm Gladwell
A quick read, Outliers glides through more than ten distinctly different case studies, from Canadian junior hockey champions to the robber barons of the Gilded Age, from Asian math whizzes to software entrepreneurs to the Beatles, all of which address the central question of how and whether successful people are that much different from everyone else. Gladwell builds a convincing case that practice, opportunities, personal background, privilege and community support all add to the equation of success, and that such seeming "outliers" like Bill Gates achieve greatness through a complex set of circumstances, not simply superhuman intellect, athleticism, or other innate advantage.