Webcast: Introducing the St. Sigma Teaching Simulation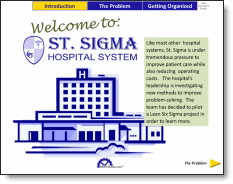 St. Sigma, MoreSteam.com's new online teaching simulation, provides instructors with a data-rich learning lab where students can explore, study and apply dozens of process improvement tools.
Simple to access and integrate into existing training programs, St. Sigma is ideal for process improvement instructors and consultants who need a versatile, comprehensive case study but lack the resources required to develop one.
St. Sigma melds online technology and process improvement in a completely new way. As an interactive medical laboratory, this new teaching tool provides a realistic, end-to-end practice project that realistically demonstrates how Lean Six Sigma can improve customer care and reduce operating costs.
St. Sigma is unique, affordable and engaging, designed such that you can easily customize it to fit nearly any time frame and teaching objectives.
Watch the Recorded Webcast!
In this Webcast (WMV format), we cover:
Dale Schattenkirk of LTS Consulting co-presents, offering details on how he has successfully incorporated St. Sigma into his healthcare training practice.