Free Webcast: "After 150 Years of Improvement, Getting Better Faster"
Recorded Webcast
Presenter: Carol Mullaney, Director of Continuous Improvement, University of Notre Dame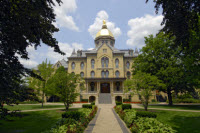 The University of Notre Dame has always been successful and is always making improvements. So why do they need to do anything new?
Across industries, the same big "why" question gets posed time and time again. And the responses are strikingly similar:
You have more challenges, and they are harder than ever to meet;
You are working within a challenging economic climate;
Your busy staff is stretched thin trying to meet some needs that aren't currently being met;
Your normal way of improving is good, but won't get you where you need to go quickly enough.
Join us for a free, recorded one-hour Webcast led by Notre Dame's Carol Mullaney to learn HOW the University of Notre Dame met these challenges and structured its Continuous Improvement methodology to make it easier for more people to access and apply.
This session will discuss the following: