Webcast: "Building Discipline Around the DMAIC Methodology: Tollgate Review Best Practices"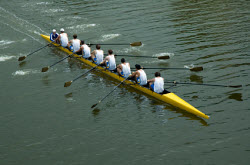 Have you ever thought about quantifying the cost associated with your organization's project slippage and scope creep? Lean Six Sigma deployments offer a high Return on Investment (ROI), but the value can be eroded without a tight discipline around the DMAIC methodology.
Just as a "coxswain" of a rowing crew is responsible for the direction and cadence of the rowing team, tollgate reviews set the pace and keep project teams on course. Learn about the best practices for using tollgate reviews!
Join Dr. D. Scott Sink in this recorded Webcast as he discusses ways to achieve successful tollgates. This session includes: