Refresh your process mapping skills with MoreSteam's Master Series
July 15, 2021
Is more of your team's problem-solving work migrating to the digital space as you adjust to the "new normal" of a workforce both at home and easing back into the office? Now might be the perfect time to brush up on your process mapping skills — and it's not too late to take advantage of new MoreSteam virtual learning on the topic.
Session recordings and case study materials are now available for MoreSteam's two-part Master Series on workflow mapping, which ran live in late June. Both sessions, led by MoreSteam President Peg Pennington, are part of a package that includes a new case study, more than four hours of online course materials, and a six-month subscription to our EngineRoom® software.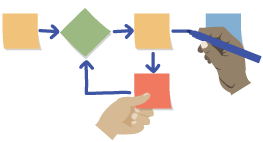 Taking a visual approach to process mapping is at the heart of the Lean problem-solving system. It's also one that can be intimidating, especially for team members new to the tools that make it happen, from the SIPOC and Value Stream Maps to the Spaghetti Diagram and the Value-Added Flow Chart. But taking a hands-on approach to visualizing processes can pay dividends for both the problem at hand and your broader company culture.
"These things are team sports," Pennington said in the first session. "These activities are as much about change management as they are about getting data."
The act of collaboration on process mapping these days, though, is less likely to take place with all stakeholders in a conference room. As the hybrid workforce grows increasingly common, MoreSteam tools like EngineRoom and its Process Playground software — both available under a 180-day license with a Master Series purchase — allow teams to simulate the tactile world of Post-Its and whiteboards when getting everyone in the same room isn't possible.
These visual problem-solving experiences, Pennington told attendees at the first session, are still as important as ever.
"You might be able to get on a Zoom call to talk about your process problems, but when you actually start drawing them out, people are going to remember that more," Pennington said.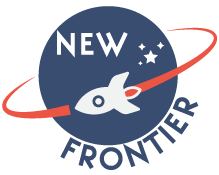 The new case study that debuted with the latest Master Series takes you inside the fictional world of New Frontier, a company run by a social media entrepreneur-turned-megabillionaire who's chasing a dream of running year-round, civilian-packed flights to space. New Frontier might be a fictional creation but the process problems and team dynamics in the case study are likely all too familiar: Handoffs that lead to days or weeks of non-value-added time, employees looking to solve problems by blindly leaping to solutions, and one very frustrated operations leader.
As part of the Master Series, you'll design SIPOC and Value Stream Maps using information and employee interviews from the New Frontier case and then check your work with access to completed versions of each tool. It's an opportunity like this, to practice the use of key Lean tools in a hands-on fashion, that reveals how problems solvers at any level of training can play a role in finding new avenues to working smarter.
"The methodology is important but it's not important for the methodology to be front and center," Lars Maaseidvaag, vice president of product development, told attendees at the second session. "What's important is the use of the tools and the insight that's gained."
If you weren't able to join us for the live program, learn how you can access the on-demand package for Mapping Your Workflows. You may also be interested in attending our upcoming free webcast, Process Modeling: Making Your Maps Come to Life which is scheduled for July 27.