Webcast: Power Up Your Lean Six Sigma Projects
Smita Skrivanek, Product Manager and Principal Statistician — MoreSteam.com

How much power do you need? One of the most important issues when considering an experimental design for analysis is whether or not the design has adequate power to detect a change in the response that is of interest from a scientific or business point of view.
In many instances, the "power" or sensitivity of the experiment is the most critical aspect of the design in assuring sound, reliable results. If the power of an experiment is low, then it is likely that the experiment will be inconclusive. On the other hand, if the power is too high, resulting in a sample size that is too large, then valuable resources will be wasted on producing a result with limited practical importance.
This session addresses the importance of conducting a power analysis before performing a test or an experiment, to ensure the most appropriate design is used. Join us for a free one-hour webcast to learn how to get the most power for the least effort.
In this session, the following key points will be covered:

Definition of power, its importance, and how it is calculated
Consequences of having too little or too much power
Importance of conducting a priori power analysis
Case study examples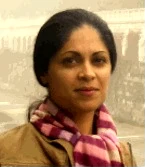 Smita Skrivanek, Product Manager and Principal Statistician — MoreSteam.com
Smita Skrivanek is MoreSteam.com's principal statistician, and more recently became Product Manager for the innovative EngineRoom&reg data analysis software application. Smita has developed curriculum, worked as a coach, and assisted MoreSteam.com students with their advanced statistical questions. She is a named inventor on four patents and patent applications. Smita has graduate degrees in applied and theoretical statistics from The Ohio State University and an MBA from Indiana University Kelley School of Business.