Best Practices: Project Management and Tracking Tools
A solid Lean Six Sigma deployment requires a mechanism for recording, storing, viewing, and reporting on the on-going project work.
This level of visibility and transparency drives management support and builds internal awareness of the benefits of continuous improvement. The infrastructure provided by a project management and tracking tool helps Belts to create meaningful reports and standardize the process of project completion.
Is This You?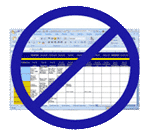 Most Lean Six Sigma deployments don't begin with a project management tool. Leadership is rarely concerned with project tracking in the early years, instead focusing on the basic block and tackle of training Belts and completing the early, critical projects.
A few years in, the lack of a universal project management tool becomes an impediment at all levels of a deployment:
Champions spend hours updating metrics and wrestling with bulky, incomplete spreadsheets.
Team leaders post data files in multiple locations, with no central repository or standardized electronic format.
Executives have no on-demand dashboard for financial metrics.
Project team members cannot post or review data at will.
Someone may propose building a home-grown project management tool, but this raises new questions about development time, ongoing maintenance costs, and common pitfalls like: multiple versions of onerous spreadsheets, a lack of file labeling protocols, the inability to merge multiple related documents for reporting purposes, slow file transfer mechanisms, poor tracking of actual financials, and variation in tool and charter templates.
The clamor rises and an ad hoc council determines that - surprise! - the best means of solving these growth-related pains is to purchasing a project management and tracking tool to bolster the deployment infrastructure.
Selecting the Right Tool for Your Deployment
That you have arrived at this page means that you are interested in informing yourself about your Lean Six Sigma project management options. We'd like to help you make a smart decision by pointing out a few things we've learned about project tracking applications in this industry.
Let's start with selection. How do you begin to whittle down your choices? What is "Critical to Quality" for your organization when it comes to project tracking?
Here are a few questions to ask:
Do you use an online tool or one with a desktop client?
Will you need a specialized interface, and how much time and money will be required to realize the required customization?
Which features are vital and which are "nice-to-haves?
How expensive will the tool be to purchase and maintain over the years?
Perhaps most importantly, if you build it, will the Lean Six Sigma team view it as value-added tool or as a non-value-added, bureaucratic distraction?
We have developed this page as a way to provide some insights into the most common questions you need to ask and answer as you seek to improve your deployment's project management process. We start with the basic factors you must consider when assessing the value of a project management tool.
The Five Musts for a Project Management Tool
Every project management and tracking tool will include both standard and exclusive features. On the most basic level, this type of tool consists of an underlying database, an interface for users to add or change data, and a reporting system for monitoring and control purposes.
Exclusive features you may encounter can include ERP integration, portal pages, strategy managers, and survey tools. But how much do these impact the day-to-day needs of your deployment?
In our experience, the best management and tracking tools for Lean Six Sigma projects must include these five basic requirements:
Ease of configuration
Visual and intuitive management features
Integration with learning and action
Flexible, powerful reporting features
Relevancy to the work process
To read more on these five basic requirements and best practices, download our white paper on "Best Practices of Project Management and Tracking Tools."
How Does TRACtion® Align to These Best Practices?
TRACtion by MoreSteam is a Web-based project management and tracking software that provides a ready infrastructure to support Lean Six Sigma deployments. TRACtion provides all five basic elements described above and is designed for a one-day setup process involving no programming.
Learn more about TRACtion through our online Feature Tour or contact us today for a live demo.