Free Webcast: "Things Your Teacher Never Told You about Test Optimization"
Recorded Webcast
Presenter: Dr. Neal Mackertich, Raytheon Engineering Fellow, Raytheon Integrated Defense Systems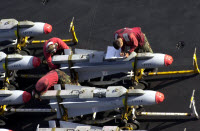 Modernize without compromise. Hit a bullet with a bullet.
With missions like this, the defense industry doesn't accommodate wide performance margins. Companies such as Raytheon are challenged by their customers to develop increasingly complex systems with smaller performance margins. In addition to those users' requirements, add the need for development and delivery in the shortest time, with the highest reliability, open and adaptable, and at the lowest cost.
Given these challenges, there is more pressure than ever on Integration, Verification & Validation activities to deliver increased performance on time and within budget. Sounds like a DfSS case study worthy of textbooks, doesn't it?
Learn about best practice techniques and the results achieved in the specific area of statistically-based test optimization. Join us for a free, recorded one-hour Webcast led by Raytheon Engineering Fellow Dr. Neal Mackertich.
This session will: