Free Webcast: "The Power and the Pitfalls of Multiple Regression Analysis" (Part 1)
Recorded Webcast
Presenter: Smita Skrivanek, Senior Statistician, MoreSteam.com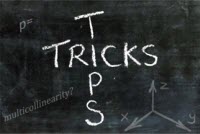 It seemed so simple in Stats 101, but applying Multiple Regression Analysis to a process improvement project is deceptively simple.
Response data in the real world doesn't always neatly fit into the definition of 'continuous'. How do you handle attribute (counts, ordinal or binary) response data?
Sometimes aggregating data can generate erroneous conclusions. How do you recognize this and when and how should you segment your data?
Independent variables may be closely correlated to one another. When is this a problem, and how can you determine the true impact of the variables?
Join us for this free, one-hour Webcast led by MoreSteam's Smita Skrivanek to better understand the nuances of multiple regression analysis and to gain confidence in addressing these issues.
This session covers the following: