Webcast: "Better Process Design Using Fast Prototyping - The 3P Process for Healthcare"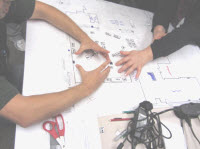 Recorded Webcast
What would Extreme Makeover look like in hospital laboratory?
Since 2008, Akron Children's Hospital has used Lean Six Sigma methodology to improve processes in their Centralized Core Laboratory. Even with the great work already done in the department, there was an opportunity for a greater coordinated improvement to address efficiency.
In response, Lab leadership partnered with the hospital's Mark A. Watson Center for Operations Excellence to conduct a series of projects to address current gaps in performance.
In this recorded Webcast, Anne Musitano and Michael Antochow from Akron Children's Hospital candidly share their lessons learned and provide an in-depth look at one of their key initial projects in the Centralized Core Laboratory. The project was completed in December 2011 and significantly (1) improved process flow, (2) decreased specimen transportation time, and (3) improved other key lab metrics.
This session provides insight into how Akron Children's Hospital has applied Lean Six Sigma methodology including: