It's a win-win-win. Habitat's MidOhio office is partnering with student teams at Ohio State to supplement the classroom with real project work. After the students complete MoreSteam's online Transactional Green Belt course, they apply their knowledge to real business problems. The students have helped the ReStores to become more efficient and to increase their revenue, which helps to offset the cost of building new homes.
How I Fixed This


'Fresh eyes' fuel gains for Habitat for Humanity

The more furniture, cabinets, appliances and other household and construction materials Phil Washburn gets out the door of the two Habitat for Humanity ReStore locations in the Columbus, Ohio, area, the less junk that goes in the landfill and the more money that goes to the storied nonprofit's local affiliate. And the more money that goes to Habitat for Humanity-MidOhio, the more affordable homes are built, rebuilt, or repaired for families in need – 265 in the last 5 years alone.

That's the main reason why Washburn, Habitat MidOhio's program director, is celebrating an impressive three-year stretch for the Columbus pair of ReStores during which combined revenue grew from $1.8 million in fiscal 2016 to $2.3 million in the year ended June 2019. Year-over-year revenue for fiscal 2019 alone jumped 16%.

One key player in that growth, Washburn said, is the payoff of a multi-year partnership with undergraduate students at The Ohio State University Fisher College of Business and the number-crunching support of MoreSteam's EngineRoom application. By collaborating annually with student project teams four years and counting, Habitat's Columbus-area ReStores have successfully tackled some major problems that were throttling product throughput and stifling revenue growth. These are two problems – among others – that the ReStore team knew existed but could finally make decisive improvements to using the student teams' data-driven analysis.

"Like many organizations, we were good at the whole 'Know you have a problem' thing, but we would keep jumping to a solution to chase the wrong problem," Washburn said. "Working with these students to not rush into it and try to figure out the root causes made a huge difference, and I can point directly to recommendations in their projects that played a role in our growth."
Ohio State Student Teams Expand Habitat's CI Capability
Call Washburn a convert by chance to the world of Lean Six Sigma. A random conversation at his children's tennis camp led him in 2016 to enroll in the blended Black Belt training course offered by MoreSteam. A connection in the nonprofit world later plugged Washburn and Habitat MidOhio into a project-based Lean Six Sigma course at Fisher where students take on real-world DMAIC projects to earn their certification.
The students' recommendations for process changes helped Habitat take average throughput time – from donation to floor debut – from about three hours down to 30 minutes.
"There's only so much I could do running projects myself, so having a team come in made all the difference," Washburn said of the partnership. "They're getting the data they need, translating it into our company language, and for every hour or two they put in, we're getting 20-plus hours of benefit."
The first student team turned out remarkable results in 2016 as it analyzed the Habitat ReStore's process for receiving donated items and eventually placing them on the floor, priced and ready for sale. The students' recommendations for process changes helped Habitat take average throughput time – from donation to floor debut – from about three hours down to 30 minutes, avoiding untold instances in which the right customer for a given product is in the ReStore at the wrong time.
Phase 2: Pricing
For all the benefits of the inaugural Fisher-Habitat student project, it also helped Washburn and others see other ReStore problems more clearly, particularly the process of pricing items. The then-current state of the process in 2017 entailed an item being rejected or accepted, then – if accepted – reviewed to determine which of four grades (A, B, C, or D) it would receive based on its condition. Not only is this step highly subjective, but other complicating factors lurked within the value stream: A doorstop of a pricing book nonetheless didn't contain the full breadth of the items that came in the door, while a barcode-producing point of sale (POS) system didn't have all possible items either, meaning employees resorted to handwritten yellow tags instead of barcodes. If an item went out the door with lightning-quick speed, that's a potential sign that it was priced too low. If it lingered on the floor, it may have been priced too high. Either error could cost in the form of lost revenue or inventory waste.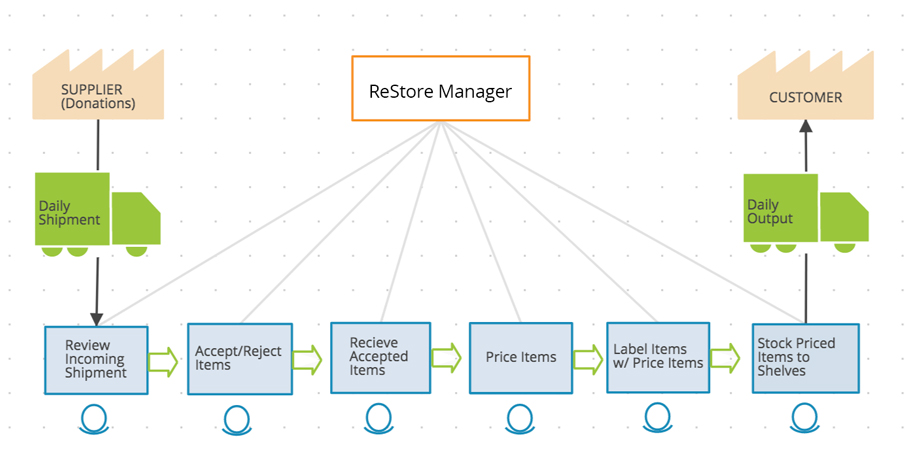 "If an 'A'-quality product was priced at 'C' quality, that meant we lost 20 percent of the value," Washburn said.
When the undergraduate student team scrutinized the process over the course of a day, they determined that 39 of 84 items – nearly half – were inaccurately priced, an error rate nearly twice as severe as Habitat's initial goal of 25%. Most alarmingly, hardware items – the ReStore's second-biggest revenue generator – were priced inaccurately nearly three-quarters of the time. A fishbone diagram the students created pointed to myriad contributing causes, from employees' confusion about the process to extreme variation in donated items.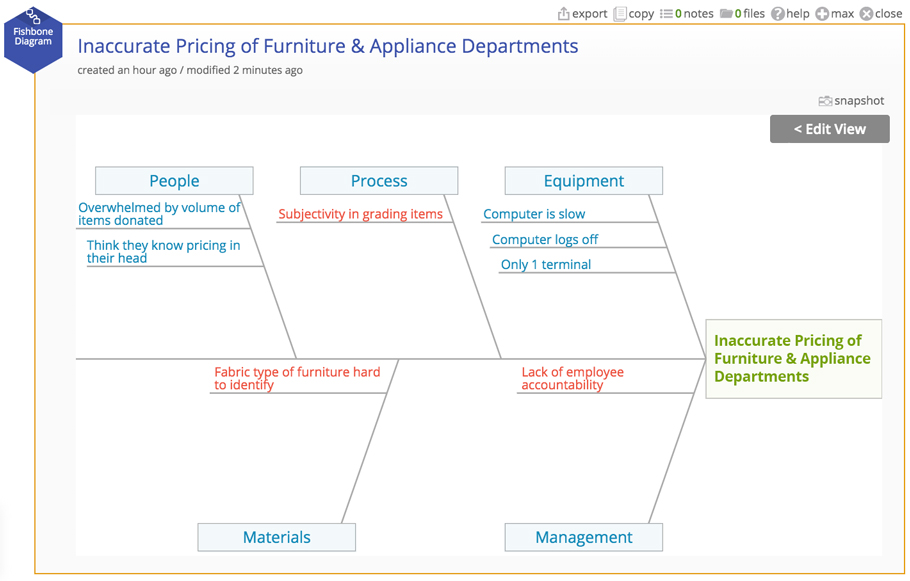 It's that outside perspective, Washburn said, that made all the difference.
"Having fresh eyes pointed out some of the inherent issues in the pricing process where defects could happen," he said.
Student recommendations targeted three key areas of improvement for the ReStores: 1) Improving communication about the purchase process with customers; 2) Changing how items of similar quality are grouped on the floor; and 3) Rolling out a markdown process that accounts for seasonal fluctuations in demand.
These improvements alone, Washburn said, have accounted for a not-insignificant portion of the ReStores' sales growth in recent years – and that hasn't been the final partnership with Fisher students, either. They returned the following year to dig deeper into how for-sale items are placed on the floor, an issue that grew out of the pricing project.
Building a movement
"We're still using EngineRoom, even when we're not doing a full project or looking at a specific problem," Washburn said. "It's a great tool for helping us try to see connections among our data."
The improvements rolled out at the Columbus ReStore location where the Fisher-Habitat collaboration began won't be staying inside those four walls. The nonprofit is opening a third Columbus location in fall 2019 with that earlier continuous improvement work built into its physical layout and processes. Meanwhile, Washburn and others at the existing Habitat ReStore locations are on the hunt for their next problem to tackle.
"We're still using EngineRoom, even when we're not doing a full project or looking at a specific problem," he said. "It's a great tool for helping us try to see connections among our data."
Beyond the reach of the Columbus area, Washburn and his Habitat operation have become a force for large-scale change. Informally, a group of Habitat employees across the country is sharing continuous improvement tips on Microsoft's popular Yammer platform. More officially, Habitat International has rolled out continuous improvement training with its staff and affiliates, Washburn said. Driving this movement is a concerted effort to make regional leaders like himself not the sole Habitat employees passionate about problem solving.
"We really want to empower our employees to find solutions that they can do right then and there, then help train them to know when to escalate it to a formal project," Washburn said.
Key Takeaways
Spend more time in the problem-definition phase than you think you need. Much more. Moving an improperly defined project into later DMAIC phases can have many negative consequences, from irrelevant metrics to "band-aid" solutions on symptoms, not the root cause. Move from the left side of the A3 only when you're certain you've accurately scoped your problem.
Don't underestimate the power of a pair of fresh eyes. It's easy to see process defects for what they are when you're a part of the value stream. Act on opportunities to expose others with a problem-solving mindset - be they students or industry colleagues - to your world. The insight they offer might be something that has eluded you.
Look for your next project in your current one. Problems in an organization can be interdependent, something that's often discovered in the DMAIC process. Keep focused on your project scope but always be on the lookout for how you can build on the success you're chasing now for another project win later.