Lean thinking has changed the way we do business, but can it change the way we govern? Arizona is proof that it can. Five years after implementing the Arizona Management System (AMS) – a statewide initiative built on Lean principles – the state government has fundamentally altered the way it operates. The new system emphasizes process, visibility and efficiency, empowering employees at every level to be part of the solution.
How I Fixed This


Governing with a Lean State of Mind

Arizona Governor Doug Ducey has a clear vision for his state. He wants it to be the number one place to live, work, play, recreate, retire, visit, do business, and get an education.

Sounds easy, right?

To accomplish such an ambitious goal, Ducey knew change was needed. Not just any change, but something efficient and effective. Something that's worked for highly successful leaders at a number of different organizations.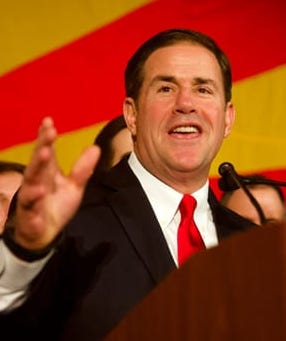 Ducey looked to the business world for inspiration. As the former CEO of Cold Stone Creamery – along with 7 years at Proctor & Gamble – Ducey had plenty of experience working in a Lean environment. He used that experience to lead the creation of the Lean-based Arizona Management System (AMS).
"During my time in business, I saw firsthand how effective and impactful a Lean management system can be, and I wanted to bring those same principles to government," Ducey said.
If it works for some of the most successful companies in the world and across a state government, it can work for everybody.
The system appears to be working. Upon taking office in 2014, Ducey inherited a $1 billion budget deficit. By applying Lean thinking and eliminating waste, he balanced the budget in his first year — without raising taxes. The state budget remains balanced today, with a $1 billion surplus and a record $1 billion in its Rainy Day Fund.
Business is thriving, and the Arizona population is growing at the third‐highest rate in the country.
"We're experiencing the benefits of AMS statewide," Ducey said. "Employees are more empowered and engaged, state agencies are more efficient, and the quality of life in Arizona is as incredible as it's ever been."
How it works
To create a united, streamlined government, each of the 36 state agencies reporting to the Governor's office is required to use AMS. Agencies were granted leeway to implement the system at their own pace, and given the freedom to tweak certain aspects to best serve their needs. But there are standard elements all agencies must follow, including a focus on a results‐driven environment that prioritizes customer service, transparency, accountability and continuous improvement.
Elements of the AMS
| Performance Management | Visual Performance Management | Standard Work | Leadership Behaviors | Problem Solving |
| --- | --- | --- | --- | --- |
| Strategic Plans | Huddle Boards | Standard Work | Leader Standard Work | Basic Problem Solving |
| Scorecards | Tiered Huddles | Workplace Organization (5S) | One-on-One Coaching | Intermediate Problem Solving |
| Breakthroughs | Process Flow | | Go and See (Gemba) | |
| Business Reviews | | | | |
Each agency has one vital mission that gives purpose to everything it does. For example, the mission for the Department of Transportation is "Connecting Arizona. Everyone. Everywhere. Every day."
Huddle Boards and flow charts are a staple of every office, with an emphasis on providing visibility and prioritizing the issues that matter most. As Miseal Cabrera ‐ the Director of the Arizona Department of Environmental Quality (pictured, far right) ‐ puts it, "The only problem we can't solve is a problem we can't see."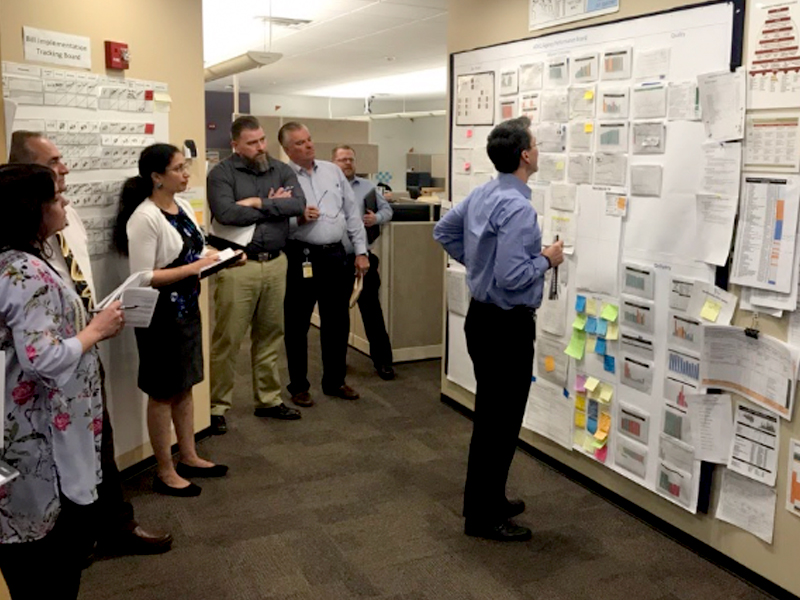 Gemba walks are commonplace. Kaizens are not only encouraged but incentivized, with bonuses and even salary increases offered to employees who submit the most successful ideas. In certain agencies, the expectation is that every employee — regardless of title — submits two or more Kaizens per year. So if you work for the State of Arizona, part of your job is to continually search for ways to make your office run more efficiently.
To measure agency performance, the Government Transformation Office (GTO) uses a custom-built app called My Agency Scorecard that allows them to view a variety of important dashboards and reports. In just a few clicks, they can visualize statewide progress toward key metrics and high-priority goals.
That may sound simple and intuitive, but it took a lot of purposeful effort to create this cohesion.
"When the governor first came into office, most of these agencies hadn't even met each other before," said Josh Wagner, the Statewide Performance Manager. "Now they aren't operating as separate entities anymore. We all think about the state as one enterprise – one system with multiple departments."
Impact by the numbers
50 %
Decrease in the time it takes for the Department of Veteran Services (DVS) to complete resident assessments, improving the quality of care for veterans across the state.
55 days
Saved in the process to review complex and outlier claims at the Arizona Health Care Cost Containment System. After just five months under the AMS, the process time for these claims dropped from 62 days to 7 days.
1.3 million hours
Saved by Arizona customers at the Motor Vehicle Division (MVD) in 2017. Under the AMS, the average customer wait time went from 54 minutes down to 25 minutes.
$6.3 million
In savings to customers through reduced fees at the Arizona Department of Quality and the Industrial Commission of Arizona.
What's next?
Ducey knows exactly how many days are left in his second and final term as governor – "1,034," he said on the day we spoke with him.
He keeps that number top of mind not because he's counting them down, but because he wants to prioritize the issues that matter most to Arizona taxpayers – like education, safety and fiscal responsibility.
He wants to get a lot more done, and he knows there's a finite amount of time to make it happen. With AMS in effect across the state, he's confident it will.
"This is my fifth year in office, and I've told my staff I expect to accomplish more during the next three years than we have during the last five," he said.
Although there's no guarantee the next governor of Arizona will continue utilizing the Lean-based management system, Ducey believes he's created something that will have a lasting impact not only in Arizona, but other states as well.
Key takeaways
Business leaders from some of the world's most successful companies joined MoreSteam for an exclusive, behind-the-scenes look of Arizona's state government.
Check out the photo gallery to the right for photos of the tour and some of these business leaders' thoughts about the experience.