Avoiding Death-by-PowerPoint
Did Simulation Save US Airways Flight 1549?
January 31, 2009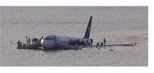 On January 15, 2009, US Airways flight 1549, a commercial passenger flight en route to Charlotte, North Carolina from LaGuardia Airport in New York City, ditched in the Hudson River about five minutes after takeoff. The Airbus A320 apparently hit a flock of large birds about 90 seconds after takeoff and lost power in both engines. The pilot was forced to land in the Hudson River, and all 155 passengers (including crew) were evacuated and rescued from the partially submerged plane.
The media and many observers called it a miracle. Lynn Lunsford, aerospace industry reporter for The Wall Street Journal, described "landing on water without fatalities" as "one of the rarest and most technically challenging feats in commercial aviation." As you may have read, the captain, Chesley Sullenberger, is former fighter pilot, a commercial pilot with almost 30 years' experience, a safety expert and a glider pilot. His lifetime of experience, focus, and dedication to safety excellence all reinforced the successful landing and evacuation.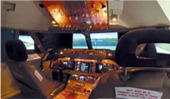 But how do pilots prepare for unplanned scenarios like emergency water landings? While it has not received mention in the press, one of the unsung heroes of this incident was very likely the use of a flight simulator in pilot training!
Flight simulators are commonly used to train flight crews in normal and emergency operating procedures. In simulators, pilots can train for emergency situations such as engine and equipment failures. For an airplane multi engine rating pilot license, commercial pilot applicants must log at least 250 hours of flight time as a pilot (of which a maximum of 100 hours may have been accomplished in an approved flight simulator).
So, did the flight simulator get an award, parade, Today Show interview, or key to the city of New York? Of course not! But the advocacy of practice and simulations by aviation organizations was surely one of many important factors that contributed to the amazing success of Flight 1549. Imagine if the pilots had been trained how to execute an emergency landing in water via a PowerPoint presentation instead of a simulator! Such an approach probably would have added new meaning to the "death by PowerPoint" description commonly applied to lecture-based training!
Now is a good time to reflect on how practice and simulation can improve your Lean Six Sigma deployment. Perhaps your Green Belts and Black Belts would benefit from more simulated real world practice before being turned loose in the cockpit of your critical projects? Visit our simulation pages for more information on how simulations can help your process improvement efforts.