Webcast: Lean Gahanna
Jennifer Teal, City Administrator - City of Gahanna

The Lean Gahanna program is modeled on the state's LeanOhio program, which has a mission to make government services simpler, faster, better and less costly. Using continuous improvement methods such as Lean and Six Sigma, Gahanna City programs and departments will be empowered to cut the proverbial "red tape," remove inefficiencies, improve customer service and achieve measurable results. The City of Gahanna will also be poised to provide services and training resources to other local public sector partners, such as the townships, schools and neighboring communities.
Join Jennifer Teal during this free one-hour webcast to learn how their city is building a results-oriented Lean culture.
In this session, the following key points will be covered:

Introducing Lean Six Sigma in a mature service organization
Putting constituents in the driver's seat
Achieving strategic objectives one project at a time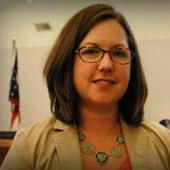 Jennifer Teal, City Administrator - City of Gahanna
Jennifer Teal is Gahanna's first City Administrator, and has previously served as the City's Deputy Director of Finance, Director of Finance and Assistant City Administrator. Jennifer leads the City's Lean Gahanna initiative and community-based strategic planning process, GoForward Gahanna. She has a Bachelor of Arts in Urban Planning & Public Administration from Miami University and a Master of Public Administration from George Mason University. Prior to her time in Gahanna, Jennifer worked for the Department of Homeland Security and Department of Defense, as well as the City of Colorado Springs. She earned her Lean Six Sigma Green Belt from LeanOhio in 2013 and is currently working on her Black Belt certification.