Process Modeling: Bring Your Process Maps to Life
Peg Pennington, President - MoreSteam.com

If you've ever implemented a process improvement or designed a new process from scratch, you've probably created a new process map to show how the process should work. Static maps can be great tools to communicate a snapshot of the state of the world. However, nothing happens "on average." Process performance is more like a video stream that includes a good deal of variability.
Reveal Trouble Spots & Resolve
See how modeling can let you explore process variability and what happens when things change. Learn how you can virtually create an animated process model to observe how the process performs under stress. Understand how you can answer "what if" questions like: What happens if someone doesn't show up for work? Or errors create rework? Or a process step hits a snag and takes longer?
Modeling prepares you for all kinds of scenarios. Virtual prototypes encourage creativity and allow you to test your new design before it ever touches real customers.
Join us for this introduction to virtual process modeling to:

Understand how process modeling draws upon principles of Lean and Agile methodologies
Get introduced to virtual process prototyping with Process Playground software
Minimize risk and improve the quality of solutions by experimenting with realistic scenarios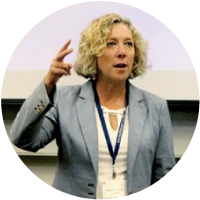 Peg Pennington, President - MoreSteam.com
Peg champions critical thinking and problem-solving as core competencies for all organizations. She's a team builder and has shared her passion for problem-solving over two decades of her career. Working as an educator and process improvement thought leader with MoreSteam's global clients, she loves to share her enthusiasm to build a culture of innovation.
Prior to joining MoreSteam's executive team, Peg was the Executive Director of the Center for Operational Excellence and an instructor in the Master of Business Operational Excellence ("MBOE") and MBA programs at Ohio State's Fisher College of Business.