Webcast: Building Proficiency in Process Improvement Skills
Bill Hathaway, President - MoreSteam.com

For the past 15 years, MoreSteam.com has advocated the use of blended learning models for Lean Six Sigma training. We believe that proficiency in process improvement skills can be achieved only through practice, and that a combination of self-directed learning in combination with facilitated simulations and practice exercises provides an effective, scalable model for building personal capability, which is the first step toward organizational excellence.
Our belief is founded in the research on the effectiveness of learning models. We were very encouraged by the recent results of a blended learning effectiveness survey administered to our larger global clients. Academic research conducted 10 years ago had indicated that blended learning enjoyed a 20% premium over traditional lecture-based classroom training in building procedural knowledge.
We wondered whether advances in interactive eLearning and simulation-based practice over the last 10 years might have further improved the effectiveness of blended learning. So we asked the people who should know: our larger clients who have migrated from lecture-based classroom training to a blended learning model. For perspective, this group of respondents represents well over half a trillion dollars in annual revenue, and trains tens of thousands of people a year
What they told us exceeded our expectations, with the group reporting an average improvement in learning effectiveness of 39%. Join us for this free one-hour webcast to learn more about how these companies are successfully building proficiency in process improvement skills.
In this session, the following key points will be covered:

Research Foundation of Blended Learning
Learning Activities Used in Blended Models
Success Factors of Organizations Indicating the Greatest Improvement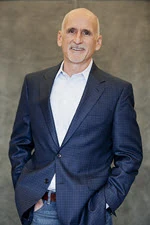 Bill Hathaway, President - MoreSteam.com
Prior to founding MoreSteam in 2000, Bill spent 13 years in manufacturing, quality and operations management. After 10 years at Ford Motor Co., Hathaway then held executive level operations positions with Raytheon at Amana Home Appliances, and with Mansfield Plumbing Products.
Bill earned an undergraduate finance degree from the University of Notre Dame and graduate degree in business finance and operations from Northwestern University's Kellogg Graduate School of Management. He continues to serve as MoreSteam's president and is a frequent speaker on process improvement.