The Ohio State University and MoreSteam
At The Ohio State University, undergraduate and master's students in degree programs at Fisher College of Business and the College of Engineering are trained to become the leaders and problem solvers of tomorrow in their field — and MoreSteam is part of their journey. Whether it's Fisher's one-of-a-kind master's program for lean leaders or the College of Engineering's foundational undergraduate courses, MoreSteam is part of the fabric of the operational excellence "ecosystem" at Ohio State in a number of programs:
Fisher College of Business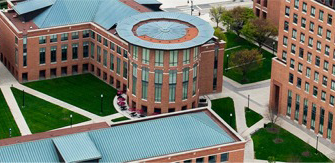 At Fisher, the Master of Business Operational Excellence (MBOE) program uses MoreSteam's online Lean Six Sigma Black Belt course as a part of the curriculum, while the SigmaSim® InBox lean office simulation is incorporated in extensive blended programming.
Fisher's full-time Master of Business Administration (MBA) and MBA for Working Professionals degree programs each use MoreSteam's online course as the online textbook for their Six Sigma Principles elective.
Undergraduate Fisher students have the opportunity to take "Six Sigma Principles" and "Quality Management" electives that incorporate MoreSteam eLearning as components of these instructor-facilitated courses.
Fisher and MoreSteam co-present a blended Lean Six Sigma training program designed as the most time-sensitive, value-driven program in existence. The program features MoreSteam's self-paced 140-hour online Black Belt course, followed by a one-week in-class experience on Ohio State's campus.
Fisher offers Lean Six Sigma Black Belt Certification to individuals who have successfully completed MoreSteam's Lean Six Sigma Black Belt Leader program.
Fisher and MoreSteam support and co-present a quarterly, complimentary Lean Six Sigma Solutions Breakfast that allows Black Belts and aspiring Black Belts to network and hear the latest insights on transformational change from business leaders.
MoreSteam and Fisher also partner in delivering Master Black Belt training and certification. Using a blended model and faculty provided by the University, MoreSteam and industry-leading technical trainers, this program has stringent application criteria and certification standards applied jointly by MoreSteam and the University (both of which confer the certification upon successful candidates).
College of Engineering
At the undergraduate level, the college's Integrated Systems Engineering (ISE) degree program provides students with degrees offering career opportunities in a variety of industries. One ISE track relies heavily on blending faculty members' industry expertise with MoreSteam technology: the Integrated LeanSigma Certification Program. Featuring a technical elective called "Lean Six Sigma Foundations," this program utilizes MoreSteam Lean Six Sigma Black Belt training, Process Playground™ discrete event simulation software for teaching process modeling, and TRACtion® project tracking software. A companion course, "Lean Sigma Certification," allows faculty and students to collaborate on project work using MoreSteam's TRACtion and Black Belt exam in conjunction with College of Engineering certification.

This certification differentiates a candidate and is in very high demand in business and industry. Of the candidates in this program, 95% have landed full-time positions before graduating, indicating the popularity of this additional work and skill development in the eyes of employers. Disney, Discover, Boeing, UPS, John Deere, Chase, and Accenture are just a small sample of representative companies pursuing candidates with the ISE Degree and the ILSS Certification.
- Dr. Scott Sink, Director, Integrated Lean Six Sigma Program, Ohio State College of Engineering