Air Academy Associates and MoreSteam.com
MoreSteam partners with top consulting organizations throughout the world. We're pleased to be working with Air Academy Associates, a recognized leader in process improvement and experimental design. When their clients request a Blended Learning solution, Air Academy relies on MoreSteam's online training tools to deliver a customized online experience that aligns with Air Academy's exceptional live instruction.
Air Academy Associates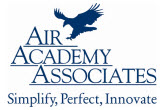 Air Academy Associates (http://www.airacad.com) is a recognized leader in delivering client results through various improvement methodologies, including variation reduction, defect reduction, problem solving, robust process/product designs and business growth.
With more than 20 years of experience in deploying and implementing process and product improvement methodologies, Air Academy is a key contributor in the creation and evolution of the most successful improvement methodologies available. Their pioneering "Keep It Simple Statistically" (KISS) approach converts data into information and subsequent knowledge, leading to a true value stream for knowledge creation and process/product optimization.
MoreSteam.com

MoreSteam.com is the leading global provider of online Lean Six Sigma training and Blended Learning technology, serving over 2,000 corporate clients and over 50% of the Fortune 500 with a full suite of Lean Six Sigma e-Learning courses and deployment support technology. MoreSteam.com was launched in the year 2000 in response to the high cost of traditional Six Sigma training and tools, and has now trained over 549,964 Lean Six Sigma professionals. MoreSteam's mission is to enable people to advance the performance of their organizations by delivering powerful tools for process improvement to the widest possible audience at the lowest price available.