Transactional Green Belt
A version of our world-class Green Belt eLearning course, created specially for employees and organizations who work primarily in transactional settings.
Overview
World-class Green Belt training used by hundreds of Fortune 500 companies and major universities
Similar to our standard Green Belt course but built for people in service industries (banking, retail, finance, etc.)
Ideal for anyone who works in a transactional position (HR, sales, marketing, finance, etc.)
Omits lessons that relate primarily to manufacturing
More than 10% cheaper than our standard Green Belt eLearning course
Superior instructional design with user-friendly navigation
Clear & compelling content
Extensive practice opportunities, including simulations, interactive exercises, and skill checks
Videos to walk you through difficult concepts
Easy access from your computer, tablet, or phone
Course access for a year
Flexibility to work at your own pace
No prerequisite necessary
Open enrollment — start whenever you are ready
Price: $1,700 (plus applicable sales tax)
Group & Academic pricing available. Contact us for information
150+ practice exercises reinforce learning and provide immediate feedback.

Graphic animations bring concepts to life.

Take 2 videos illustrate key lesson points.

Create a personal review sheet with the notes & highlighting feature.

What have you missed? See a summary of all the learning aids on your personal dashboard.
What's Included / Features
74 hours of training

Instructor and technical support

Software integration and tutorials

Available in several industry "flavors": Manufacturing (default), Healthcare, Financial Services, and Service Industry. Custom flavors available upon request, for additional cost.

Includes a free one-year subscription to EngineRoom software ($300 value)

Compatible with other statistical software options, including Minitab or JMP
Skills Covered
Process Improvement

Communication

Team Leadership

Flow Charts

Value Stream Mapping

Business Problem Solving

Charting Process Behavior

Lean Tools

Understanding Customer Requirements

DMAIC Process (Define, Measure, Analyze, Improve, Control)
Course Benefits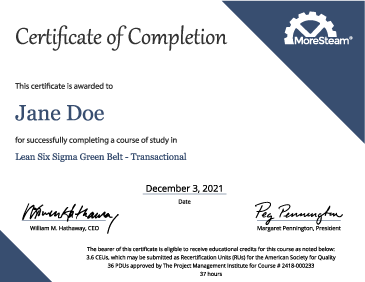 Certificate of completion
7.4 CEUs eligible to be claimed
74 PDUs eligible to be claimed
Job Opportunities
Average Salary for a Green Belt in the U.S.: $102,895*
Train using the same trusted course material used by more than half of all Fortune 500 companies and top universities around the world, including: Google, Rolls-Royce, Nationwide, The Ohio State University, University of Notre Dame, California Polytechnic State University (Cal-Poly), and Indiana University
*Source: 2020 QP Salary Survey (ASQ)
Course Outline
11 sessions, providing comprehensive base of Lean Six Sigma Green Belt knowledge
Begin whenever you're ready and work through each session at your own pace
SESSION 1: Introduction to Lean Six Sigma
– The 8 Forms of Waste, DMAIC Overview, Thought Process Mapping
SESSION 2: Define I – Starting a Project and Leading Teams
– Leadership Thinking, Improving Team Development, Stakeholder Analysis
SESSION 3: Define II – Voice of the Customer
– Understanding Customer Requirements, Conducting Surveys, Affinity Diagram Toolset
SESSION 4: Define III – Mapping the Process
– The Source of Value (Gemba), Process Mapping, Flow Charts
View Full Outline
Realistic examples show details of how tools are used.

Step-by-step instructions make it easy to follow along and create your own example.

Terms are explained in common language and often drawn to clarify understanding.

Side links offer a variety of resource materials related to each lesson.

Hands-on practice is included for each tool. Redo the practice exercises as often as you like.
Content Experts
Course material written by industry experts with years of experience, making this the most comprehensive and beneficial online Green Belt course available.
Testimonials & Reviews
"The practice sessions were very helpful. I liked the case studies and games."

– Jessica, Ernst & Young

"The ability to either read or listen to the lessons allowed me to learn either at my desk or on business trips. The mobile-friendly format meant I wasn't tied to a computer."

– Rebecca, St. Luke's Health System

"This is one of the best online courses that I have attended. It provides a very clear understanding of Lean Six Sigma, even to the uninitiated."

– Senapathy, Emirates NBD

"I really enjoyed the course. I have started applying many of the methodologies into my day-to-day routines, and I can see the difference."

– Abdi, Hertz

"EngineRoom was great — I couldn't have passed without it!"

– Michele, Biogen
Want to learn more?
CONTACT US TODAY...

Frequently Asked Questions
How do I access the course?
You can access the course anywhere you can get on the Internet — simply log in to the MoreSteam.com portal from your computer, tablet, or phone.
Will I receive certification when I'm done with this course?
No. Although you will receive a certificate of completion, official Green Belt Certification is a separate process. You must purchase certification separately from any online training course. For more information, visit the Green Belt certification page.
How long does Green Belt training take?
You have 365 days to complete the course, which represents about 80 hours of training, not including any external project work you may choose to complete.
Do I need a project to complete the training?
No. We do not require a project for training, though we strongly recommend that you accompany the coursework with a meaningful project. A real-world project will significantly enhance the learning experience because you can use it to directly practice the concepts and tools as you complete the course. Successful project work is also required for any certification process.
Do you offer pricing discounts for groups of trainees and deployments?
Of course! Many of our larger customers send tens to hundreds of employees through Green Belt training. Please contact us directly to discuss your specific needs.
Why Choose MoreSteam?
MoreSteam.com is the world's leading provider of online training, certification, and technology for Lean Six Sigma. By choosing us as your source of training, you will join a network of more than 600,000 professionals across the world, representing more than 50% of all Fortune 500 companies and several prestigious universities.
Simply put, we offer the most comprehensive and beneficial online Lean Six Sigma training available, and we pride ourselves on preparing students to thrive in whatever industry they pursue.
MoreSteam is honored to be a longtime partner with the American Society for Quality. ASQ members can find our courses in the ASQ Training Catalog.