Kaizen Leader
Learn the skills needed to effectively plan and lead a Kaizen Event, a series of process improvement activities intended to extend over a period of 3-5 days. This course includes instruction on essential lean tools and techniques to identify and eliminate process waste.
Overview
Kaizen and Kaizen Leadership practices
Lean Methods, background, and integration of Lean within the Six Sigma improvement process (DMAIC)
Lean practitioner who wants to learn how to structure and the behaviors necessary to lead a successful kaizen event from planning > execution > close-out > follow-up
Superior instructional design with user-friendly navigation
Clear & compelling content
Easy access from your computer, tablet, or phone
Course access for a year
Flexibility to work at your own pace
Open enrollment — start whenever you are ready
Price: $750 (plus applicable sales tax)
Group & Academic pricing available. Contact us for information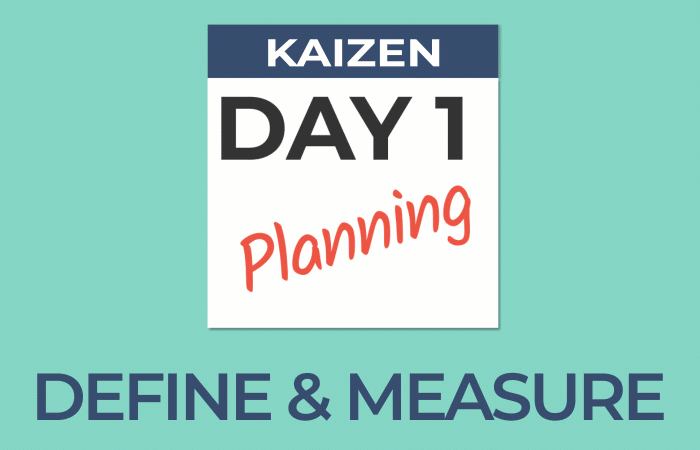 What's Included / Features
22 hours of training

Support for technical or content-related questions

Software integration and tutorials

Available in several industry "flavors": Manufacturing (default), Healthcare, Financial Services, and Service Industry. Custom flavors available upon request, for additional cost

Available in six languages: English, Chinese, German, and French

Includes a free one-year subscription to EngineRoom Software ($300 value)
Skills Covered
Planning, preparing for, and executing Kaizen Events

5 day Kaizen Schedule

Calculating the Sigma Level

DMAIC — The Improvement Process

The Role of a Champion

The Source of Value: Going to Gemba

Process Mapping

Flow Charts

8 Forms of Waste

Leadership Thinking

Success Factors for Effective Change Management
Course Benefits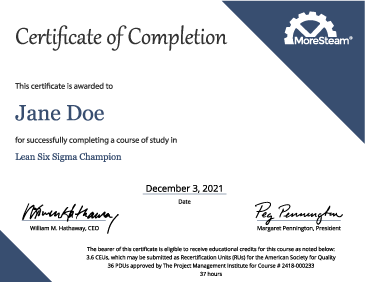 Certificate of completion
2.2 CEUs eligible to be claimed
2.2 PDUs eligible to be claimed
Job Opportunities
Train using the same trusted course material used by more than half of all Fortune 500 companies, including Google, Rolls-Royce, Southwest Airlines, and Nationwide
Course material also trusted and used at major universities including The Ohio State University, Indiana University, California Polytechnic State University, and University of Notre Dame
Course Outline
No prerequisite necessary
6 sessions that each pair the daily planning and execution of Kaizen Events with essential Lean Six Sigma concepts and tools
Begin whenever you're ready and work through each session at your own pace
SESSION 1: Introduction to Kaizen
• Highlights: Laying the groundwork for Kaizen, 5 Lean Principles, 8 Forms of Waste, Lean Six Sigma Framework & the DMAIC process
SESSION 2: Team Development & Pre-Event Planning
• Highlights: Developing and leading teams, change management, process mapping, chartering and tracking projects
SESSION 3: Understanding the Current State
• Highlights: Voice of the Customer, Process Thinking, Source of Value, Takt Time, Flow Charts, Value Stream Mapping
View Full Outline
Videos bring content to life

What have you missed? See a summary of all the learning aids on your personal dashboard.

Create a personal review sheet with the notes & highlighting feature.
Content Experts
Course material written by industry experts with years of experience, combining the wisdom of years of change management, lean leadership, and problem solving to our Champion training.
Testimonials & Reviews
"This Kaizen Leader training will definitely help me in my workplace as well as my personal life challenges. Thank you"

– Kay Slobodnyak, NNPP

"I was very impressed with how in depth this course was. The material was presented in different ways and was very well organized for an online course!"

– Heather Couch, KHS America

"Very effective design tools for the course such as the toolbox, the tutorial, the templates, and Sigmapedia. All tools that I used with pleasure. It is a good course that I recommend to anyone who wants more for their professional training."

– Riccardo Aptuit

"Spot-on and truly value-added combination of content (theory, examples, exercise) and delivery format (text, video, supplement materials)!"

– Bas Kalfs, Bridgestone Firestone

"I had used several of the Six Sigma principles over the years with no formal training. I should have taken this course years ago. It just really helps to understand the "big" picture of a robust quality program and gives you all of the tools to incorporate them accurately."

– Craig Pugh
Want to learn more?
CONTACT US TODAY

Frequently Asked Questions
How do I access the course?
You can access the course anywhere you can get on the Internet — simply log in to the MoreSteam.com portal from your computer, tablet, or phone.

With eLearning, you can start any time after purchase. You do not have to wait for other students or an instructor-led kickoff. All the materials and instructions are available online, and you can proceed at your own pace.
Will I receive certification when I'm done with this course?
No. Certification is a more complex process required only for higher levels of expertise. However, as proof of your training, you will receive a formal Certificate of Course Completion when you finish the course.
How long does this training take?
You have 365 days to complete the course, which represents about 19 hours of training. You are welcome to go at your own pace and complete it all within one week or over the course of several months.
Do you offer pricing discounts for groups of trainees and deployments?
Why Choose MoreSteam?
MoreSteam.com is the world's leading provider of online training, certification, and technology for Lean Six Sigma. By choosing us as your source of training, you will join a network of more than 600,000 professionals across the world, representing more than 50% of all Fortune 500 companies and several prestigious universities.
Simply put, we offer the most comprehensive and beneficial online Lean Six Sigma training available, and we pride ourselves on preparing students to thrive in whatever industry they pursue.