Design for Six Sigma (DFSS) Courses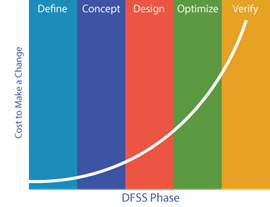 This course covers the complete Design for Six Sigma (DFSS) body of knowledge, including both product and process design.
We offer two DFSS courses for experienced Lean Six Sigma Practitioners: Product Design and Process / Service Design
Select a version below to customize your course description.
The Product version includes additional lessons on advanced statistics and experimental design. Both versions use the D-C-D-O-V roadmap.
Design for Six Sigma (DFSS) is not a methodology in and of itself. Rather, DFSS is a set of best practices and tools which, when integrated into a product / service development process, increases your organization's ability to meet your customers' requirements in a timely, cost-effective manner.

As the name suggests, DFSS is about design. DFSS saves costs in part because the cost of making a change increases exponentially during the lifecycle of a development project (as shown above).

When you have completed this course, you will have a solid general knowledge of the tools, methods and best practices necessary for developing products and processes that can meet Six Sigma levels of quality.

Learning Objectives

The overall objective of this course to introduce you to the best practices and methodologies that are essential for developing product or process designs that meet customer requirements at the highest possible level of quality.

Communicate using Design for Six Sigma concepts.
Identify areas within your existing development process where DFSS is needed.
Integrate DFSS into your existing development process.
Select optimal product or process design concepts.
Use analytical and experimental methods to develop robust and reliable designs.
Modify designs for optimal performance based on variability of the inputs and desired outputs.
Verify that the designs meet the requirements at the desired level of performance.
Employ your DFSS skills to lead a successful development project delivering meaningful results to the organization.

To successfully complete this course, you must review all of the lessons and complete all of the quiz modules.

Course Structure

This course consists of six sessions, each of which is a collection of related lessons.

Individual lessons also include simulations, toolsets and interactive practice exercises. Each session ends with an interactive quiz to test your knowledge.

The course is presented in a logical sequence to follow the Define-Concept-Design-Optimize-Verify (DCDOV) representation of DFSS.

At the core of the course are the principles of understanding customer requirements, translation of requirements (QFD), design concept generation and evaluation, and development of predictive transfer functions.

The DFSS course also covers design optimization, robust design, and incorporates some Lean concepts (e.g., continuous flow, identifying waste, value stream maps) for Design for Lean Six Sigma (DfLSS). Process Playground™, MoreSteam's online process modeling tool, is now available for free in the Optimize session of both versions of the DFSS course.

On every page, you have access to a variety of helpful learning tools, from an online encyclopedia to a notes tab to support links. You can use the course navigation map to move through the course in a linear fashion or you can skip around and explore topics as you see fit.

Applying this Course to Your Work

It is important to understand that the DFSS course itself does not represent a generic development process. The course is laid out as a process to facilitate orientation to your organization's own development process.

After going through the course and understanding the purpose and application of the various tools, methods and best practices, you should compare the content of the course to the tools, methods and best practices in your organization's development process.

This process of comparison will highlight gaps between your organization's process and its potential as a DFSS development process. You will then be able to close the gap by integrating the missing material into your organization's process.

Efficient, Informative and Accessible

All course content is presented online, in an on-demand format. To begin, you simply log onto the MoreSteam University learning portal.
Numerous case studies and examples focus on service and transactional processes, as well as production applications.
With a heavy practice orientation, as much as 1/2 of your time will be spent working through interactive practice exercises and online assessments.
You have 365 days to complete this course.
Are you an engineer, programmer or process designer?
Do you need to create new products or services?
Then this course is right for you. In either version, you not only discover and learn the core concepts of DFSS, but you gain experience and competence as you apply them to the course project simulation.
Online training is ideal if you have limitations on your time, travel, and budget, especially if you've been asked to work your day-to-day job at the same time you need to learn DFSS.
Our courses provide you with content-on-demand, which means you can set your own schedule, progress at your own speed, and review and re-enter sessions whenever you wish. It's flexible, practice-based, and accessible whenever and wherever you need it.
Online training through MoreSteam is:

Flexible: This course is presented in a logical, DCDOV format, but the sessions are modular, so you can explore the material as, how, and when you like. Alternate design roadmaps are also available to corporate clients.
Accessible: Online training is available to you wherever you have an Internet connection and a browser.
Responsive: The quizzes provide immediate feedback. The practice-based interactive exercise will engage your interest and help you to remember the material.
Affordable: e-Learning has a far lower cost than classroom training. You have no travel expenses and don't miss valuable days at work.
Meaningful: As proof of your expertise, you will receive a certificate of completion and CEUs or PDUs of credit.
Selected recent quotes from our alums:
"An excellent vehicle for learning and applying the principles of Design for Six Sigma, process and product."
- James B.
"This was a really fun way to learn. The materials will be a great reference. The tools are wonderful."
- Nancy T., SMDC Health System
"MoreSteam has done an outstanding job of making the "DFSS for Process" training a meaningful experience. They clearly understand how to deliver quality training because they recognize that requires BOTH excellent material AND knowledge of the delivery medium."
- Chad J., TRW Automotive
"I found this course to be very up-to-date in its thinking, and it has a very high relevance of reference material."
- Jim H., Tecnotree Limited
This course (both versions) assumes that you have previously mastered at least the Six Sigma Green Belt body of knowledge, specifically Measurement System Analysis and Multiple Regression Analysis.
Service Version: If you have not mastered this body of knowledge, we recommend that you first enroll in the Lean Six Sigma Green Belt course, which will provide appropriate preparation.
Product Version: You will also need to understand basic Design of Experiments (DOE) for this version. If you have not mastered this body of knowledge, we recommend that you first enroll in the Lean Six Sigma Black Belt course, which will provide appropriate preparation.
Materials Provided by MoreSteam

Both Versions

Process Playground™, MoreSteam's online discrete simulation tool, is now available for free in the Optimize session of both versions of the DFSS course.

Process/Service Version Only

One year license to MoreSteam's web-based data analysis software, EngineRoom®.

Product Version Only

Microsoft® Excel® templates for statistical analysis, available as downloads within the course material.

Materials Provided by Student/Company

Minitab® is required for the Product version of the DFSS course and is not included with the course.

Microsoft Office (Word, Excel, Powerpoint). Office 2007 or higher is recommended. Older versions of Excel do not support all MoreSteam template features.

Optional Materials:

Rath & Strong's Six Sigma Pocket Guide (Rath & Strong, Inc; Spiral edition, October 17, 2000) ISBN: 0970507909

Greg Brue, Robert G. Launsby, Design for Six Sigma (Massachusetts Institute of Technology, Center for Advanced Engineering Study 1982, 1986) ISBN: 0071413766
When in your training course, you can use the on-screen Help features (e.g., glossary of terms and site search) for information. You can contact the Course Instructor by email during regular business hours to request assistance.

For general technical support, you can visit our MoreSteam University support section, where you can search through our online knowledgebase or send us a support request.
The following are system requirements for MoreSteam eLearning:

The latest version of the following browsers:

Your browser is not supported.

Display Properties Setting:

Minimum 1024 x 768 screen resolution.

Audio:

Optional audio in course.

Disable any pop-up blocker while in the course content.

Microsoft 365®
Note: Courses supporting Minitab® or JMP® contain Microsoft Excel® templates for the template tools not provided in those software packages.

Additional system requirements for Minitab and JMP courses include:

Macro Security: Microsoft Excel macro security must be set to medium or lower.
Toolpaks: The Microsoft Excel Analysis Toolpak and Analysis Toolpak VBA must be installed.
Common Questions
When can I begin the course?
With e-Learning, you can start at any time after purchase. You do not have to wait for other students to fill a class or have to attend an instructor-led "kickoff" event. All the materials and instructions are online, and you can complete the course at your own pace.
Does this course include certification?
We do not offer a formal certification for our short courses. As proof of your training, you receive a formal certificate of completion when you pass all of the course quizzes. You also receive CEUs or PDUs of credit.
Do you offer pricing discounts for groups of trainees and deployments?
Of course! Many of our larger customers send tens to hundreds of employees through DFSS training. Please contact us directly to discuss your specific needs.