Design for Six Sigma (DFSS) Courses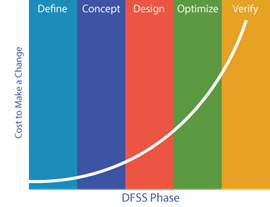 This course covers the complete Design for Six Sigma (DFSS) body of knowledge, including both product and process design.
We offer two DFSS courses for experienced Lean Six Sigma Practitioners: Product Design (46 hours) and Process / Service Design (37 hours)
Select a version below to customize your course description.

Product Design - Minitab® Process / Service Design - EngineRoom®
The Product version includes additional lessons on advanced statistics and experimental design. Both versions use the D-C-D-O-V roadmap.
Common Questions
When can I begin the course?
With e-Learning, you can start at any time after purchase. You do not have to wait for other students to fill a class or have to attend an instructor-led "kickoff" event. All the materials and instructions are online, and you can complete the course at your own pace.
Does this course include certification?
We do not offer a formal certification for our short courses. As proof of your training, you receive a formal certificate of completion when you pass all of the course quizzes. You also receive CEUs or PDUs of credit.
Do you offer pricing discounts for groups of trainees and deployments?
Of course! Many of our larger customers send tens to hundreds of employees through DFSS training. Please contact us directly to discuss your specific needs.