The Blended Learning Playbook
Using Lean Six Sigma Methods to Improve Lean Six Sigma Training
The Blended Learning Playbook by MoreSteam.com is the first and only practical guide dealing with the design and implementation of a Blended Learning model for Lean Six Sigma training.
Why create a Blended Learning Playbook?
In recent years, an increasing number of organizations have turned to Blended Learning - a mix of e-Learning, classroom exercises, coaching and project-based applications - as a way to continue to execute a high-quality Lean Six Sigma program without sacrificing time and money.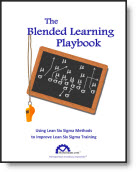 A Blended Learning design is an affordable way to improve the effectiveness, flexibility, and success rate of your internal training program, and all indicators signal that Blended Learning is gaining in usage and popularity. As far back as 1999, IBM realized $200 million USD by moving from a traditional training model to one based on e-Learning.
As well as being cheaper, Blended Learning also leads to stickier learning. Graduating Lean Six Sigma Belts are more capable, confident, and ready to complete projects.
Many of MoreSteam.com's corporate customers have successfully transitioned from a traditional instructor-led classroom training model to a Blended Learning model; in fact, eleven of these companies are featured in the Playbook!
Drawing on our expertise and the experiences of our customers, we've compiled this Playbook as a means to help interested deployments to understand what Blended Learning is and how to design the most robust program from the get-go. It is our aim to provide a single source for answers to these questions:
Why does my organization need to adopt a Blended Learning model for Lean Six Sigma training?
How can my organization design the most appropriate and effective Blended Learning model to meet our requirements?
What does the Playbook cover?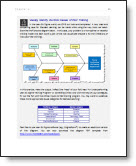 Inside, you will find the information you need to understand why and how Lean Six Sigma deployments are successfully using Blended Learning. The chapters feature case studies, clear definitions, and descriptions of winning strategies and potential pitfalls.
The playbook also uses the design tools of Lean Six Sigma as exercises to improve Lean Six Sigma deployments. Throughout, we chronicle the real-life activities of Lean Six Sigma deployments of differing maturities and sizes.
We've designed this Playbook to be useful to all levels of a deployment. Leaders should find the early chapters useful for building the business case for Blended Learning. Instructors (Master Black Belts and Black Belts) can apply the design and best practices chapters towards improvements in their training program. Even Belt students can find handy tips throughout the playbook!
How can you get your copy of the Playbook?
The Blended Learning Playbook, published by MoreSteam.com and priced at $39.99, is available in these ways: