Excel-based Data Analysis Software for Lean Six Sigma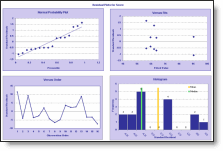 EngineRoom for Excel software provides process improvement practitioners with a full suite of powerful, simple-to-use data analysis tools within Microsoft® Excel®.
Built for Lean Six Sigma professionals at all expertise (belt) levels, EngineRoom for Excel "cuts the cost of calculation" by delivering the tools you use most at a price you can easily afford.
Common Questions
How do I get a copy of EngineRoom for Excel?
EngineRoom for Excel is delivered to you entirely via the internet (online). Whether you plan to trial or buy the software, you begin by downloading the 30-day trial version. This enrolls you into the EngineRoom for Excel Resource Center.
Once you have downloaded the software, you will receive an email with your user ID and password to access the Resource Center. In the Center, you can download the trial, purchase a permanent license, and activate your permanent license (unlock after purchase).
To get started with a no-obligation trial, download the trial version.
Is there a new version of EngineRoom available?
Yes. As of June, 2013, we have now released a Web-based version of the popular EngineRoom tool. Virtually identical to the Excel-based version, the new EngineRoom provides you analytica power anywhere you have an Internet connection and updated browser.
How do I get the latest update to EngineRoom for Excel?
If you purchased EngineRoom for Excel within a year of the update release, you can download it for free!
To get the latest EngineRoom for Excel update, you will need to log into the EngineRoom for Excel Resource Center or into your course, if you bought EngineRoom for Excel bundled with a training course.
In the EngineRoom for Excel Resource Center page, use the 'Download/Update EngineRoom for Excel' button to download the update.
If you purchased EngineRoom for Excel more than a year ago, you will need to purchase the update to receive the latest version.
How do I ensure that I'm getting the right version of EngineRoom for the Excel version on my computer?
EngineRoom for Excel has a single download link for all versions of Excel: 2007 and 2010 (32 and 64 bit versions).
Once you click the link to download, EngineRoom for Excel will automatically detect the Excel version on the computer and install the appropriate version of the add-in. It's that easy!
Will Engineroom run on a Mac?
EngineRoom for Excel will not run natively on a Mac, but you can run it through Windows on a Mac using Bootcamp or Parallels.
I have more than one version of Excel installed on my computer. Will EngineRoom for Excel still function?
Sorry, no. There is a single version of EngineRoom for Excel that automatically detects the version of Excel on the computer and installs the appropriate files. The EngineRoom for Excel install will not function properly if different versions of Excel are installed on the same machine, even if one is a trial version.
So for EngineRoom for Excel to install and function properly, you will have to remove all other versions of Office except the one you will be using for EngineRoom for Excel.