Process Playground Discrete Event Simulation Software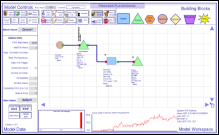 Process Playground is an online application designed to help you build and simulate your process models.
Built for process improvement and process design professionals, Process Playground delivers an easy-to-learn, easy-to-use, and easy-to-install Web-based simulator at an affordable price.
Common Questions
How do I get a copy of Process Playground?
Process Playground is delivered to you entirely via the internet. Unlike other process simulation tools, Process Playground is entirely online, with nothing to install on your machine, so you can access it from any computer. Once you register for a trial or purchase a license, you receive login information for the online "course" from which you can launch the tool.
How do I learn Process Playground?
The Process Playground course includes everything you need to begin to learn and use the tool. This includes the instruction manual, video tutorials, and example models.
Are there training courses that use Process Playground?
Yes. So far, we have included Process Playground in our Design for Six Sigma courses and our Master Black Belt development program.