Lean Six Sigma Champion Course
Learn how to become a Lean Six Sigma Champion by completing this short eLearning course, created by the world's leading provider in online process improvement training.
Overview
Detailed, informative Lean Six Sigma training designed to support Champion activities
Objective is to help you effectively guide and support teams engaged in a process improvement project
Superior instructional design with user-friendly navigation
Clear & compelling content
Extensive practice opportunities, including simulations, interactive exercises, and skill checks
Videos to walk you through difficult concepts
Easy access from your computer, tablet, or phone
Course access for a year
Flexibility to work at your own pace
No prerequisite necessary
Open enrollment — start whenever you are ready
Price: $300 (plus applicable sales tax)
Group & Academic pricing available. Contact us for information
Short interview snippets provide real life insights from experienced leaders.

Helping the team understand stakeholder roles is essential to project success.

A Balanced Scorecard keeps the "big picture" in front of the project team.
What's Included / Features
19 hours of training

Instructor and technical support

Software integration and tutorials

Available in several industry "flavors": Manufacturing (default), Healthcare, Financial Services, and Service Industry. Custom flavors available upon request, for additional cost

Available in six languages: English, Chinese, German, Portuguese, Spanish, and French

Includes a free one-year subscription to EngineRoom Software ($300 value)

Compatible with other statistical software options, including Minitab or JMP
Skills Covered
5 Lean Principles

8 Forms of Waste

Calculating the Sigma Level

DMAIC — The Improvement Process

The Role of a Champion

The Source of Value: Gemba

Process Mapping

Flow Charts

Project Tollgate Review

Leadership Thinking

Success Factors for Effective Change Management
Course Benefits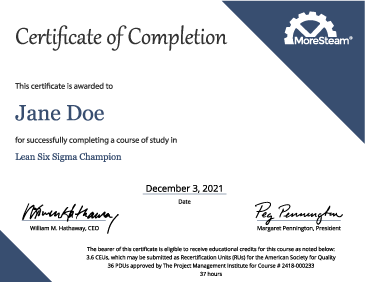 Certificate of completion
1.9 CEUs eligible to be claimed
1.9 PDUs eligible to be claimed
Job Opportunities
Train using the same trusted course material used by more than half of all Fortune 500 companies, including Google, Rolls-Royce, Southwest Airlines, and Nationwide
Course material also trusted and used at major universities including The Ohio State University, Indiana University, California Polytechnic State University, and University of Notre Dame
Course Outline
No prerequisite necessary
3 sessions, providing comprehensive base of knowledge necessary to be a Lean Six Sigma Champion
Begin whenever you're ready and work through each session at your own pace
SESSION 1: Introduction to Lean Six Sigma
• Highlights: 5 Lean Principles, 8 Forms of Waste, Lean Six Sigma Framework, DMAIC — The Improvement Process
SESSION 2: The Champion Role
• Highlights: Source of Value: Gemba, Process Mapping (SIPOC), Project Charter Toolset, Stakeholder Analysis (RACI Matrix), Project Tollgate Review Toolset
SESSION 3: Leading Team
• Highlights: Leadership Characteristics, Improving Team Development, 4 Conversations Toolset, Leader Standard Work
View Full Outline
Videos bring content to life

What have you missed? See a summary of all the learning aids on your personal dashboard.

Create a personal review sheet with the notes & highlighting feature.
Content Experts
Course material written by industry experts with years of experience, combining the wisdom of years of change management, lean leadership, and problem solving to our Champion training.
Testimonials & Reviews
"This is a wonderful initial course. Very concise and informative."

– Troy, IRS

"Every CEO or leader should take this course to reset, calibrate, or reaffirm their motives and actions"

– Brett, GSL International

"This is a great way to train. It is very flexible and can fit into anyone's schedule."

– Martin, Schneider Electric

"I am looking to advance my career, and this class will help me do just that."

– Ben
Want to learn more?
CONTACT US TODAY

Frequently Asked Questions
How do I access the course?
You can access the course anywhere you can get on the Internet — simply log in to the MoreSteam.com portal from your computer, tablet, or phone.
With eLearning, you can start any time after purchase. You do not have to wait for other students or an instructor-led kickoff. All the materials and instructions are available online, and you can proceed at your own pace.
Will I receive certification when I'm done with this course?
No. Certification is a more complex process required only for higher levels of expertise. However, as proof of your training, you will receive a formal Certificate of Course Completion when you finish the course.
How long does this training take?
You have 365 days to complete the course, which represents about 19 hours of training. You are welcome to go at your own pace and complete it all within one week or over the course of several months.
Do you offer pricing discounts for groups of trainees and deployments?
Why Choose MoreSteam?
MoreSteam.com is the world's leading provider of online training, certification, and technology for Lean Six Sigma. By choosing us as your source of training, you will join a network of more than 600,000 professionals across the world, representing more than 50% of all Fortune 500 companies and several prestigious universities.
Simply put, we offer the most comprehensive and beneficial online Lean Six Sigma training available, and we pride ourselves on preparing students to thrive in whatever industry they pursue.