Wave Machine
Online Training Administration Tools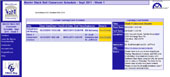 The Wave Machine is the MoreSteam administrative interface for customers who need to closely manage training waves and classes.
We provide this suite of management tools to our corporate and enterprise partners who need to enroll, track and inform large numbers of students and to communicate training progress to organizational leaders.
The Wave Machine is a collection of management and communication tools that assists you, training leaders and instructors to keep your students on track. The Wave Machine helps you to measure and communicate the progress of your training program.

The Wave Machine is designed to streamline the management of your training initiative for all parties. You can track and communicate progress, your students receive alerts, a calendar, and a centralized class home site, and your leadership gains insight into the progress of the overall program.

The Wave Machine is comprised of five integrated tools:

Nag-o-matic: Allows you to set up automated reminders and tracks your students' progress.
MoreReports: Automates the generation and distribution of progress reports whenever (daily, weekly, monthly) and to whomever (leadership, trainers) you want.
Question Stats: Helps you to drill down to detailed exam results for students, waves, or classes so you can isolate progress on specific tools and topics.
Class Management: Lets you create and deploy a centralized online class schedule or syllabus in the MoreSteam accounts of your students. Students have a one-stop location for deadlines, downloads, and event listings (e.g., kickoff meetings, study halls, virtual check-ins).
Security Requirements: If desired, you can control access to all or parts of the administrative tools, imposing limits to preserve security.

All-in-one training management system with easy online access
Tracking shows you how well students are doing and exactly where they need to improve
A "nagging" feature keeps students informed and on track
Automated reporting and export of data in CSV or PDF format
Can link with your existing Learning Management System (LMS)

You have complete visibility into your students' progress
You can create an online class home page and schedule that integrates all training activities
Your students are better informed, and your wave stays on schedule
The automated reporting supports active communication to leadership
You can enroll your own people into training

System Requirements for Online Tools

Operating System: Microsoft Windows (7 and higher) or Apple Mac OS X
Display Properties Setting: Minimum 1024 x 768 screen resolution.
Browser:

Microsoft Office® (Word®, Excel®): Some features (such as our Microsoft Excel Templates) will need MS Office® 2007 or higher.
Adobe Acrobat Reader: Latest version
Flash 10 Player: Latest version
Common Questions
Can I use this tool if I am not a MoreSteam e-Learning customer?
Sorry, no. This tools augments the existing MoreSteam classes and is meant for MoreSteam customers only.
What can the class home page include?
The Class Management tool lets you create the central home page for a wave or class, and that page can include whatever materials you wish! This can mean an online syllabus, a schedule of online and live events, a listing of class assignments, work directions, and even document downloads.
How much does the Wave Machine cost?