Taking Lean Six Sigma Local
Since 2009, MoreSteam.com has produced a series of "local" one-day conferences for the benefit of underserved Lean Six Sigma and process improvement communities.
Where Do YOU Learn about Process Improvement?
THE PROBLEM
With shrinking travel budgets and fewer industry conferences, it's harder than ever to learn about the latest ideas and tools for process improvement and design.
THE SOLUTION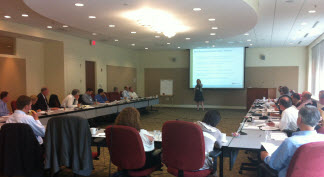 An invite-only local briefing that gathers leaders together to learn, benchmark, network and share best practices on practical topics that impact your work.
Our programs are a participatory conversation, not a sit-back-and-passively-listen conference. Each day features industry speakers, interactive forums and a local networking reception.
MoreSteam co-presents these free events with our business partners, including Air Academy Associates, Magic Hat Consulting, George Washington University and the University of Notre Dame. This sponsorship allows us to present our local events free to all participants.
We keep the total number of attendees to around 40 individuals to maintain an intimate atmosphere where you can openly share with your peers.
Upcoming Local Events
Interested in a Local Event in Your area?
MoreSteam would be glad to speak with you about setting up a local event in your region. Send an email to marketing@moresteam.com with your suggestion and contact information.
Past Local Events