How Much is Enough -- Managing Safety Stock for Hospital Supplies
Held on: Thursday, March 30, 2017
Dr. Lars Maaseidvaag
Vice President - Product Development, MoreSteam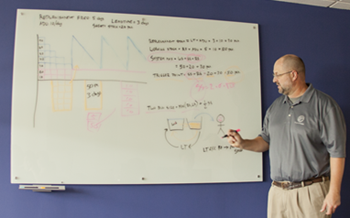 Managing supply levels oftentimes falls victim to the Goldilocks syndrome - too much or too little in search of that "just right" level.
Hospitals face an increased challenge. Stock-outs can cause delays in providing medical treatment as team members search nearby carts, cabinets, and supply closets for needed supplies. On the other hand, overstocking adds more costs to already escalating healthcare costs.
The answer? Many hospitals are implementing a Lean system for managing those supplies. Whether in a hospital, office, or shop floor environment, materials are typically managed across many points-of-use served by a centralized supply distribution center.
In this session, the following key points will be covered:

Speaker Details
Dr. Lars Maaseidvaag, Vice President of Product Development - MoreSteam
Lars continues to expand the breadth and depth of the MoreSteam curriculum by integrating Lean tools with advanced process modeling methods into MoreSteam's offerings. Lars is the lead instructor in the blended Master Black Belt and Black Belt training programs. Before coming to MoreSteam in 2009, he was the Curriculum Director for Accenture/George Group and has also worked in operations research and management consulting.