Developing a Collective Consciousness for Process Improvement
Held on: Wednesday, April 29, 2015
Gene Rogers, Associate Partner - SteelPointe Partners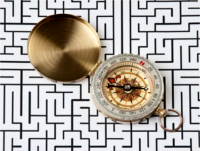 As organizations grow and change, one of the greatest impediments to continued success is the lack of organizational alignment. Organizational alignment is the glue. Without it, the best strategic plan will never be fully achieved. An aligned organization gets things done faster with less effort, delivers better results, and is more responsive to changing business conditions.
Join Gene Rogers for a lively discussion about organizational alignment based on lessons from an entertainment and pop culture icon, Star Trek. In this webcast, Gene Rogers will use the collective mind of the BORG, as featured throughout the Star Trek franchise, to discuss a model for continuous improvement. The BORG, a race of cybernetics, represent the embodiment of a continuously improving organization. The BORG think collectively, act collectively, in essence, the BORG are a collective consciousness.
This session will take those concepts and help you to apply it to your operational environment to establish a culture of transparency, one where everyone can see and understand what is going on inside your business.
Key Points:
Speaker Details
Gene Rogers, Associate Partner - SteelPointe Partners

Gene is an executive leader focused on Organizational Excellence, Lean Six Sigma, and Data Science. Currently, he is an Associate Partner with SteelPointe Partners based in Houston, Texas. Prior to joining SteelPointe, Gene served as the Senior Director for Process & Quality Management, Office of the CIO with The Ohio State University; IT Director at Baker Hughes, Inc., a major Oil Services company headquartered in Houston, Texas and a Global Manager at Dell, Inc. in Round Rock, Texas.
Gene has a Bachelor of Science degree from the University of Houston and has certifications in ITIL, Six Sigma, and Quality Engineering. He was also a Malcolm Baldrige National Quality Award Examiner in 2012.