California Polytechnic State University (Cal Poly), San Luis Obispo and MoreSteam.com
MoreSteam partners with top academic organizations throughout the world. We're pleased to be partners of Cal Poly, San Luis Obispo. Cal Poly now offers MoreSteam's online training and technology to students and professional as either Blended Learning or wholly online training.
Cal Poly, San Luis Obispo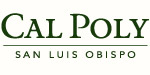 Cal Poly, San Luis Obispo is a nationally ranked, four-year, comprehensive public university located in San Luis Obispo, halfway between San Francisco and Los Angeles on California's Central Coast. It is a distinctive learning community offering academically focused students a hands-on educational experience that prepares them for today's scientific and technical world.
MoreSteam.com

MoreSteam.com is the leading global provider of online Lean Six Sigma training and Blended Learning technology, serving over 2,000 corporate clients and over 50% of the Fortune 500 with a full suite of Lean Six Sigma e-Learning courses and deployment support technology. MoreSteam.com was launched in the year 2000 in response to the high cost of traditional Six Sigma training and tools, and has now trained over 546,739 Lean Six Sigma professionals. MoreSteam's mission is to enable people to advance the performance of their organizations by delivering powerful tools for process improvement to the widest possible audience at the lowest price available.