2013 Washington, DC Executive Briefing: Excellence in Process Improvement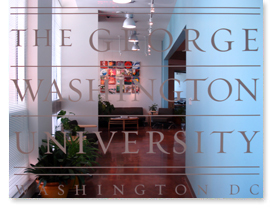 On Wednesday, June 19, 2013, MoreSteam.com and The George Washington University jointly hosted the first annual Washington, DC-area, executive-level program on the benefits and application of process improvement. We held the event at The George Washington University Graduate Education Center in Alexandria, VA.
The one-day, invitation-only event featured:
A morning of presentations by guest speakers,
An afternoon program of practical, interactive presentations,
A networking lunch and breaks, and
A post-event networking reception.
Event Recap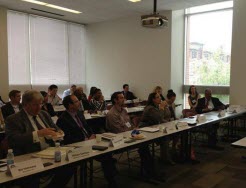 Our first DC-area event was a well-received combination of learning and conversation with over 30 attendees.
The Input: a diverse collection of leaders and practitioners from government, consulting, non-profits, manufacturing, technology, health care, and other industries (see list to the right).
The Output: Newfound acquaintances and a full day of discussion regarding tools, challenges, and solutions.
A Morning of Examples
After a light breakfast, we opened the day with a round of networking introductions, led by MoreSteam.com and The George Washington University Center for Excellence in Public Leadership.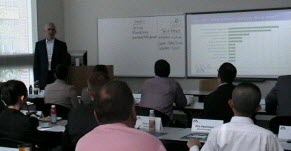 With so many participants at this year's event, we opted for a round-robin format, where we split the group twice, by industry and topic of interest. In each small group, participants had a the opportunity to introduce themselves and meet the other professionals from similar backgrounds and experiences.
The lead talk for the morning was "Implementing a Successful LSS Program in an Intelligence Agency'" by Michael Cantwell, Lean Six Sigma Program Manager at the National Geospatial-Intelligence Agency (NGA). After an excellent Q&A session, Bill Hathaway of MoreSteam and others led a group discussion on the current trends within Lean Six Sigma and process improvement.
An Afternoon of Applications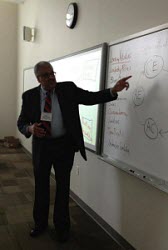 Following lunch, MoreSteam's Chris Paret and Bill Hathaway delivered "Building Better Belts - Advanced Training Methods and Models," a discussion on the use of technology and design principles to devise a more cost and resource effective training program. For a real-world example of such design thinking, Chris Paret discussed how NAVAIR has developed and refined their Blended Learning training model.
The program closed with "Marrying Lean Six Sigma Implementation with Leadership Development," by Jim Robinson, Executive Director of The George Washington University Center for Excellence in Public Leadership. This well-received session demonstrated how to implement the Lean Six Sigma process into leadership development programs.
An Evening of Networking
At the end of the program, attendees were invited to a casual reception at the Graduate Education Center. Those who remained enjoyed the extended opportunity for conversation and networking with their fellow process improvement executives.
Interested in Similar Events?
MoreSteam will continue to sponsor and host regional events. Contact us if you have a local event we should consider. To hear about these events, subscribe to the MoreSteam monthly email newsletter.