Recap: 2011 Tulsa Continuous Improvement Conference
On Wednesday, October 5, 2011, BPE Consulting Group (www.bpeconsulting.net), a subsidiary of BOK Financial, and MoreSteam.com co-hosted a one-day continuous improvement program for education and networking for nearly 100 active local practitioners representing over 50 organizations.
The goal of this event was to provide local continuous improvement practitioners with an opportunity to hear expert speakers, interact with peers and share knowledge. The attendees represented a diverse cross section of job positions, from deployment leaders through Green Belts, and industries, from healthcare to manufacturing, and aerospace to banking.
A Program of Diverse Topics and Speakers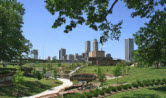 This year's conference, held at the Hyatt Regency Tulsa in downtown Tulsa, featured a morning program consisting of two breakout sessions, a lunch speaker and presentation, a plenary panel session, a keynote speech, and a networking reception.
The morning began with introductions, followed by consecutive breakout sessions. The session facilitators kept the conversations lively and interactive, providing attendees with the opportunity to network and to weigh in with their own ideas and experiences. The breakout sessions were:
Practice First: The Inside Out Training Model - facilitated by Bill Hathaway
Quantitative Complexity Reduction - facilitated by Dr. Kelly Brown
Using Lean as a Tool for Profitable Green Business - facilitated by Dr. Marc Jensen
Lean Six Sigma for Service - facilitated by Cynthia Jones Stewart
Dr. Kelly Brown, President, Avalanche Process Improvement rounded out the morning program with a lunch keynote on "The Story Telling Approach to Continuous Improvement Deployment".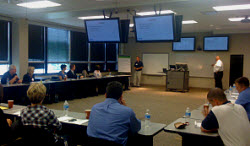 Following lunch, a panel of industry deployment leaders discussed "A Behind-the-Scenes View into a Continuous Improvement Program (CIP) Deployment". Participants had the opportunity to ask questions regarding deployment best practices and challenges facing their organizations.
Dr. Mark Kiemele, President and Co-founder of Air Academy Associates, and a leader in providing continuous and breakthrough improvement methods to industry since 1990 delivered the keynote in the afternoon. Dr. Kiemele's presentation was titled "Simplify, Perfect, Innovate—a Mantra for Continuous Improvement".
Directly following the event, BPE Consulting Group and MoreSteam.com hosted a two-hour networking reception for all attendees.
What's Happening Next in Tulsa?
The Tulsa process improvement community continues to benefit from an active networking group, Lean Six Sigma Professionals of Tulsa, which you can join through the LinkedIn Web site. This group meets on a regular basis for networking and educational outings such as plant tours.
For information on other sponsored events and free Lean Six Sigma and process improvement resources, subscribe to MoreNews, MoreSteam's monthly email newsletter.
About BPE Consulting Group