Recap: 2010 Tulsa Continuous Improvement Conference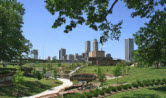 On Wednesday, September 15, 2010, Bank of Oklahoma Financial (BOKF) and MoreSteam.com hosted a one-day continuous improvement program for education and networking for over 50 active local practitioners.
The free event, held at the OU Schusterman Center's Learning Center, featured a morning program of facilitated forums followed by a lunch keynote and an afternoon Blended Learning competition based on MoreSteam's SigmaBrew DMAIC project simulation.
The goal of this event was to provide local continuous improvement practitioners with an opportunity to hear expert speakers, interact with peers and share knowledge. The attendees represented a diverse cross section of job positions, from deployment leaders through Green Belts, and industries, from healthcare to manufacturing, and aerospace to banking.
The Morning Program
The morning began with introductions, followed by consecutive breakout sessions. The session topics were selected by registrants by popular vote prior to the event. The session facilitators kept the conversations lively and interactive, providing attendees with the opportunity to network and to weigh in with their own ideas and experiences. The breakout sessions were: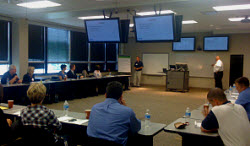 9:00 AM - 10:15 AM
"How To Overcome Resistance to Continuous Improvement," facilitated by Cynthia Jones Stewart, Evermore Services
"Lessons From Successes and Failures," facilitated by Bart Pickens, Oklahoma Manufacturing Alliance
10:30 AM - 11:45 AM
"Defining Your Continuous Improvement Program," facilitated by Chris Reneau, Ameristar Fence Products
"Sustaining Continuous Improvement In Times of Change," facilitated by Kelly Brown, Avalanche Consulting / ICF International
Lynn Valz, Director Lean Six Sigma Operations at the Cancer Treatment Centers of America (CTCA) rounded out the morning program with a lunchtime keynote. Lynn spoke on the details of the CTCA continuous improvement deployment and the challenges unique to her organization.
The Afternoon Simulation Demo

Following lunch, MoreSteam.com ran a three-hour demo of the SigmaBrew DMAIC project simulation to demonstrate how deployments use practice-based classroom simulations in their Blended Learning programs. This unique, online multi-player game offers a rich, risk-free DMAIC project that tests your knowledge of Lean Six Sigma tools and techniques as you face choices on collecting data and implementing improvement actions.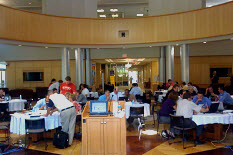 Attendees were separated into twelve teams of 3-4 individuals who competed to win the Define phase of SigmaBrew DMAIC. After several hours of work, the participants gathered for an open discussion of lessons learned.
MoreSteam then announced the final team scores (ROI and Sigma Level), which were based on multiple criteria, including the amount of resources spent on each phase option and the quality of answers to the phase tollgate questions. Winners received their choice of SigmaBrew-branded items and ground coffee as prizes.
Directly following the event, BPE Consulting Group and MoreSteam.com hosted a two-hour networking reception for all attendees.
What's Happening Next in Tulsa?
The Tulsa process improvement community continues to benefit from an active networking group, Lean Six Sigma Professionals of Tulsa, which you can join through the LinkedIn Web site. This group meets on a regular basis for networking and educational outings such as plant tours.
For information on other sponsored events and free Lean Six Sigma and process improvement resources, subscribe to MoreNews, MoreSteam's monthly email newsletter.