Design for Six Sigma and Process Improvement Event at Villanova University
2013 Philadelphia Executive Briefing: Product and Process Design Excellence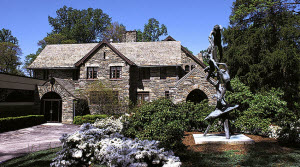 On Thursday, January 17, 2013, MoreSteam.com and Magic Hat Consulting jointly hosted a one-day program at Villanova University on the benefits and application of product and process design.
The one-day event featured:
A morning of activities and discussion on aspects of design
An afternoon program of practical, interactive workshops,
A networking lunch and breaks, and
A post-event networking reception
Event Recap
Held at the Villanova University Conference Center, our first Philadelphia event was a well-received combination of learning and conversation.
The Input: a diverse collection of leaders and practitioners from manufacturing, pharmaceuticals, health care, and other industries (see list to the right).
The Output: Newfound acquaintances and a deep, revealing day of discussion regarding design tools, challenges, and solutions.
A Morning of Examples and Activities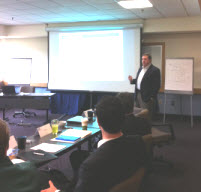 After a light breakfast, we began the program with a round-the-room introduction. Most participants opted to give a 180-second single-point lesson (assigned pre-work), highlighting a personal observation, technical tip, or example of process improvement.
This was followed by two talks. In "Developing a Heuristic for Quality Design and Prototyping," Mike Ensby of BioClinica, Inc. provided a high-level discussion of how developing a flexible model leads to successful product quality design and prototyping. In "The Evolution of Design for Six Sigma," Bill Casey described how Quest Diagnostics has learned from and improved it's implementation of DFSS training over the past few years from mandatory training to a "pull" course for teams.
An Afternoon of Interactive Workshops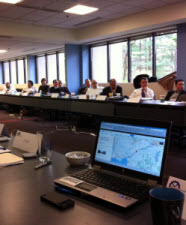 Following lunch, we came back together for a timed, team-based construction exercise that spoke to the various ways in which we, as adults and professionals, think through design problems.
We then split into two interactive workshops, "Process Design Thinking - Simple Methods to Get It Right the First Time" by Bill Hathaway, CEO of MoreSteam.com and "International Café: How to Implement a Robust Innovation Program," by Jack Merritt, Director, Business Enabling Practice at Magic Hat Consulting.
Bill Hathaway's workshop covered the ways we think about designing processes and how new tools such as discrete event simulation can be applied to rapidly prototype new process designs. Jack Merritt's "café" offered participants a structured round-robin exercise that facilitated the discussion of design ideas and best practices.
An Evening of Networking
At the end of the program, attendees were invited to a casual reception at the Villanova University Conference Center. Those who remained enjoyed an extended opportunity for conversation and networking with their fellow process improvement executives.
Interested in Similar Events?
MoreSteam will continue to sponsor and host regional events. Contact us if you have a local event we should consider. To hear about these events, subscribe to the MoreSteam monthly email newsletter.