2013 Boston Executive Briefing: Excellence in Process Improvement

On Thursday, May 23, 2013, MoreSteam.com, Air Academy Associates and Fresenius Medical Care NA jointly hosted the second annual Boston-area, executive-level program on the benefits and application of process improvement.
The one-day, invitation-only event featured:
A morning of presentations by guest speakers
An afternoon program of practical, interactive workshops,
A networking lunch and breaks, and
A post-event networking reception
Event Recap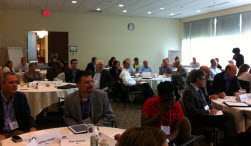 Held again at the Conference Center at Waltham Woods, our second Boston event was a well-received combination of learning and conversation with over 50 attendees.
The Input: a diverse collection of leaders and practitioners from manufacturing, technology, insurance, health care, and other industries (see list to the right).
The Output: Newfound acquaintances and a full day of discussion regarding tools, challenges, and solutions.
A Morning of Examples
After a light breakfast, we opened the day with a round of networking introductions, led by the event moderator, Dr. Neal Mackertich of Raytheon Integrated Defense Systems.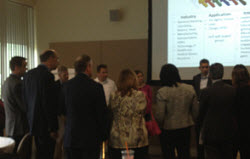 With so many participants at this year's event, we opted for a round-robin format, where the group split themselves three times, by industry, application, and topic of interest. In each small group, participants had a short period to introduce themselves and meet the other professionals ffrom similar backgrounds and experiences.
Two talks filled the remainder of the morning. In ""Playing for the Long Run," Jeff Hastie provided his audience with a glimpse into the unique challenges and solutions embraced by Bose Corporation in their global process improvement efforts. In "Using Scorecards: Technical Challenges," Stephen Clarke of SABIC led a more technical discussion on the advantages of using performance metrics such as Defects per Opportunity to more accurately measure project and deployment success.
An Afternoon of Applications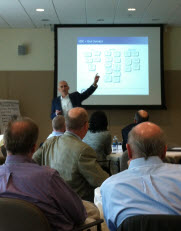 Following lunch, MoreSteam's Chris Paret and Bill Hathaway delivered "Building Better Belts - Advanced Training Methods and Models," a discussion on the use of technology and design principles to devise a more cost and resource effective training program. For a real-world example of such design thinking, Tim Rollo of Fresenius Medical Care NA shared how his organization developed a Blended Learning training model for Yellow Belt certification.
The program closed with "50 Best Practices for Achieving Process Excellence," by Mark Kiemele of Air Academy Associates. This interactive session gave each participant the opportunity to assess his or her own organization on how well they employed best practices, as defined by data from more than 500 other companies. Dr. Bob Zimering of Raytheon completed the talk with a description of how his company used this self-assessment process to help understand their strengths and weaknesses around these defined best practices.
An Evening of Networking
At the end of the program, attendees were invited to a casual reception at the Westin Waltham. Those who attended enjoyed the extended opportunity for conversation and networking with their fellow process improvement executives.
Interested in Similar Events?
MoreSteam will continue to sponsor and host regional events. Contact us if you have a local event we should consider. To hear about these events, subscribe to the MoreSteam monthly email newsletter.