Improve Your Products and Processes Through Design Excellence
2012 Boston Executive Briefing: Product and Process Design Excellence

On Wednesday, May 23, 2012, MoreSteam.com, Air Academy Associates, and Fresenius Medical Care jointly hosted a Boston-area, executive-level program on the benefits and application of product and process design.
The one-day, invitation-only event featured:
A morning of presentations on different aspects of design
An afternoon program of practical, interactive workshops,
A networking lunch and breaks, and
A post-event networking reception
Event Recap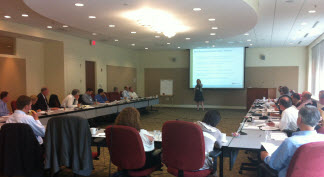 The Boston design event was held at The Conference Center at Waltham Woods, in Waltham, MA. Following a breakfast and round-the-room introduction, Neal Mackertich, Raytheon Engineering Fellow at Raytheon Integrated Defense Systems, moderated a morning program that showcased the diversity of design applications in the industry.
Bill D'Innocenzo, Vice President, Global IMPAQ at Fresenius Medical Care, set the tone with his presentation "Eating the Elephant: Designing and Deploying Continual Improvement in a Multi-site Environment." Bill D'Innocenzo described in detail how FMC has applied Blended Learning and process design tools and thinking to successfully implement their rollout of continual improvement to over 2000 sites and clinics in North America.
The second half of the morning focused on product design, with Nina Kohnen, Director of Design Excellence at Covidien presenting "Implementing DFSS and Lean Product Design at Covidien," and Neal Mackertich discussing "Things Your Teacher Never Told You about Test Optimization." Nina Kohnen shared examples and notes on the value that DFSS and Lean Product Development have brought to Covidien's Product Leadership organization. Neal Mackertich delved into how Raytheon has used test optimization tools to develop increasingly complex systems with smaller performance margins, shortest test time, highest reliability, and lowest cost. Both talks fostered an active and open discussion of DFSS tools and best practices.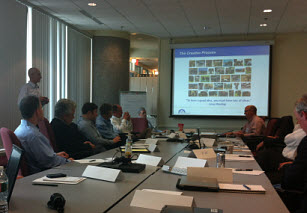 In the afternoon, the attendees split into two workshops, "Process Design Thinking - Simple Methods to Get It Right the First Time" by Bill Hathaway, CEO of MoreSteam.com and "Design for Six Sigma (DFSS): An Integrating Design Framework for Successfully Fielding a Product or Service" by Dr. Rick Murrow CEO of Air Academy Associates. In each breakout room, attendees learned specifics about the tools of DFSS, including simulation, combinatorial testing for validation and confirmation testing.
After the day's program, the attendees and sponsors re-gathered for a reception at the local Westin, extending their conversations on practical design and enjoying the relaxed opportunity to network with fellow process improvement executives.
Interested in Similar Events?
MoreSteam will continue to sponsor and host regional events. Contact us if you have a local event we should consider. To hear about these events, subscribe to the MoreSteam monthly email newsletter.