Online Lean Six Sigma Exam and Testing Technology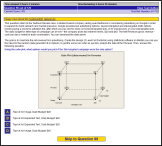 Crucible is an innovative online testing module for organizations who need to automate their testing procedures.
You can easily integrate Crucible with Lean Six Sigma e-Learning for pre-test, post-test, or certification purposes and can also use the software on a stand-alone basis in support of corporate certification efforts.
Writing, delivering and grading exams is time-intensive work, especially when you graduate 10s to 1000s of process improvement professionals!

The Crucible online testing module helps you save time and effort by automating the entire testing function.

This online tool requires very little setup, and students need only a login and password to begin their exams. With its modular design, Crucible delivers a unique test composition for each individual.

Contains hundreds of Lean Six Sigma test questions
Flexible design with the ability to customize by topic and/or degree of difficulty
Questions are pooled and randomized
You can customize a test to fit any Lean Six Sigma body of knowledge
You can incorporate company-specific questions

Simple to administer through an online portal
Easy to customize and deliver a unique test to each student
Admin tool shows you how well students did and where they need to improve
Your students can review answers and learn from their mistakes
Integrates tightly with MoreSteam's online training

Pricing for the Crucible online testing module is dependent on:

The number of users,
The type of test you want (Green Belt or Black Belt), and
The amount - if any - of required customization.

Contact MoreSteam directly for a pricing quote based on your needs.

System Requirements for Online Tools

Operating System: Microsoft Windows (7 and higher) or Apple Mac OS X
Display Properties Setting: Minimum 1024 x 768 screen resolution.
Browser:

Microsoft Office® (Word®, Excel®): Some features (such as our Microsoft Excel Templates) will need MS Office® 2007 or higher.
Adobe Acrobat Reader: Latest version
Flash 10 Player: Latest version
Common Questions
Can individuals purchase this test?
Sorry, no. Crucible is a software tool that supports organizational testing and is not available as a test that individuals can purchase and complete. Crucible is the tool we use to administer the exams for our Black and Green Belt certifications. read more about certification
Can I request a demo of Crucible?
Of course! We'd be glad to give you a personalized demo of Crucible. Request a demo