Crucible&reg Online Testing Feature Tour
Top Features of Crucible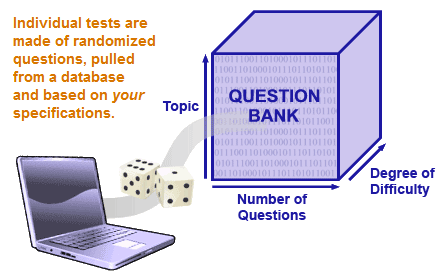 The Crucible online testing module contains hundreds of Lean Six Sigma test questions.
It features a flexible design with the ability to customize by topic and/or degree of difficulty. LMS communication is available via AICC protocol.
With Crucible, you can:
Pool and randomize questions.
Link questions to common background case information, with downloadable data.
Incorporate graphical analysis.
Integrate company-specific questions into the question bank.
Specify a time limit, with a running clock.
Add re-test provisions.
Establish links to e-Learning for the purpose of remediation.
Control the Degree of Exam Difficulty...
With Crucible, you can select the types and levels of difficulty for questions. Crucible features three levels of questions:
Level 1 tests general knowledge,
Level 2 tests the application of concepts without math, and
Level 3 requires calculation and/or analysis.
...Or Use the Standard Settings
While organizations can customize Crucible, many use Crucible's standard settings for Green Belt and Black Belt testing.
The standard Green Belt online test consists of 50 questions and runs for three hours. The standard Black Belt test consists of 100 pooled and randomized questions and runs for six hours.