Coach View: The Optimized Training Dashboard
Actively manage your training capability with comprehensive analytics of student activities. This simple yet powerful dashboard provides both breadth and depth of information on students and their progress.

A Bird's Eye View of Your Students
At a glance, view skill check score data, course engagement, practice attempts, and training progress — all updated live for your entire cohort or wave. Notice and address outliers proactively to ensure that future project team members are fully equipped to get meaningful results.
Dive Deep into Quiz Statistics
With just one click, increase the granularity of students' data by expanding detailed breakdowns of skill check results. User data is sortable, color-coded, and organized by session to make analysis quick and easy.
Track Student Engagement
MoreSteam courses offer a wide variety of learning modalities, from case studies to blackboard videos to simulations and other interactive practice exercises. Use our Course Engagement widget to keep track of how thoroughly students are engaging with the entirety of their training materials.
Data-Driven Coaching and Study Halls
Quickly identify outliers who might benefit from one-one-one coaching, or use aggregate trends in skill check scores to pinpoint topics for study halls. Maximize coaching and study hall time alike by using easily accessible question-response data to inform remediation.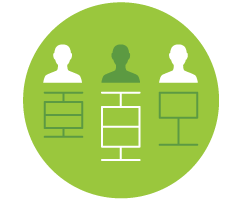 Use Box Plots to identify which students are ready for a study hall with a single glance.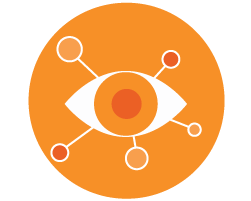 Course engagement gives a quick overview of student completion of videos, case studies, and exercises, showing student engagement in all aspects of the course.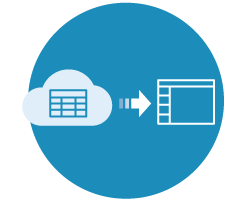 All data tables are downloadable, making them easy to maniuplate and pull into other presentations.
Skill Check Scores
The Skill Check widget provides a quick overview of all student results throughout end-of-session skill checks. A series of box plots display the distribution of scores for each session, and hovering over each box plot presents the user with the mean, median, and mode score data. Outliers are easily identifiable as red dots on the graph.

Expand the Skill Check widget to view detailed question-by-question data, allowing coaches to quickly identify the questions that students struggled with, as well as the particular students who answered those questions incorrectly.
The power to distinguish between students mastering the material and those who would benefit from extra support means nobody's time is wasted.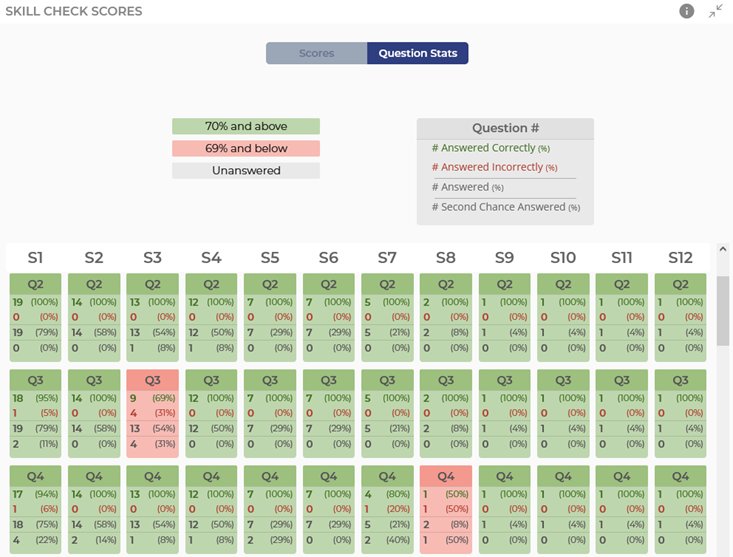 Course Engagement
At MoreSteam, we take great care to supplement the text of our courses with meaningful and varied learning content. Our data and feedback clearly show that students who take advantage of that content — students who actually download and analyze datasets — perform better on skill checks, enjoy their training more, and, most importantly, feel more prepared to tackle real-world projects. Use the Course Engagement widget to keep track of which students are making the most of their training and which could use some encouragement.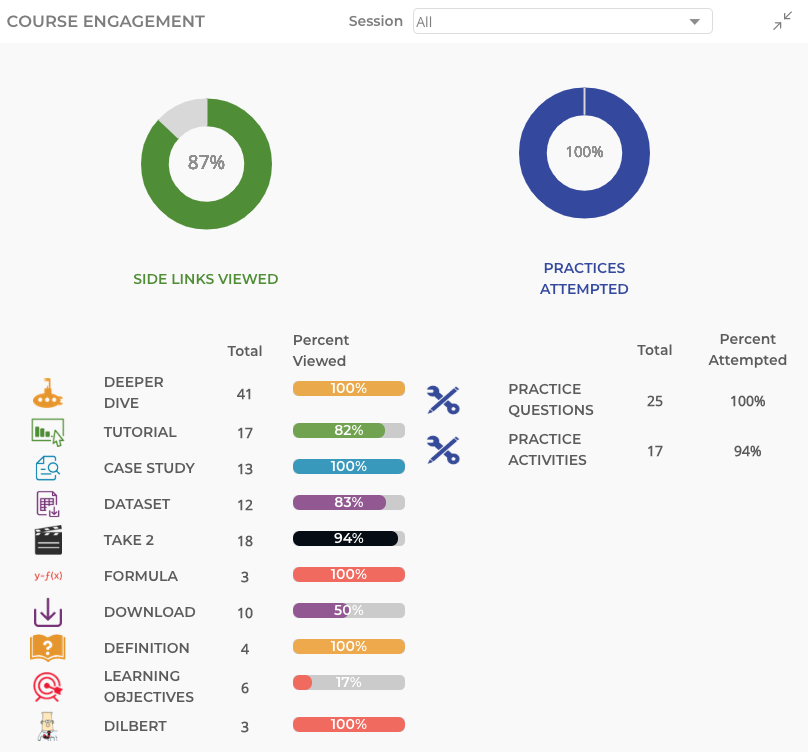 Adjust Your Scope with the Student Widget
We wanted to make it as easy as possible to alternate between viewing data for an entire cohort or any given selection of students. Simply click on student names in the "Students" widget to instantly adjust all data on the page to only reflect selected students' information. Expand the Students widget to view each individual's progress and average skill check score.