Blended Learning Research & Resources
These Blended Learning resources can help you to get started. Many are general in nature and are not specifically about Lean Six Sigma Blended Learning.
The Blended Learning Playbook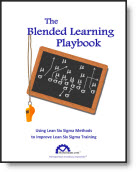 The Blended Learning Playbook by MoreSteam.com is the first and only practical guide dealing with the design and implementation of a Blended Learning model for Lean Six Sigma training.
Drawing on our expertise and the experiences of our customers, MoreSteam has compiled this Playbook as a way to help you understand what Blended Learning is, how to build the business case for it, and best practices in the design of an effective Blended Learning model.
Download a free excerpt of The Blended Learning Playbook!

White Papers & Articles
What Forty Years of Research Says About the Impact of Technology on Learning
Reviewed on the American Educational Research Association (AERA) Web site, 2011
Game On? The effectiveness of game use in the workplace depends on context and design
Written by Dr. Traci Sitzmann, University of Colorado (excerpt from T + D magazine), November, 2010
Evaluation of Evidence-Based Practices in Online Learning: A Meta-Analysis and Review of Online Learning Studies
From the U.S. Department of Education, Office of Planning, Evaluation, and Policy Development, July, 2009
The Comparative Effectiveness of Web-Based and Classroom Instruction: A Meta-Analysis
By the Advanced Distributed Learning Initiative, November, 2005
Blended Learning in Practice: Designing the Study Hall
Many Blended Learning programs include "study halls" as a component of their model. At MoreSteam, we generally define a study hall as a mandatory catch-up session that supports the online training, provides examples, answers questions on recent materials, and allows the instructor to meet with students. Download the free white paper on study hall best practices.
Advanced Blended Learning - A Concise Primer
Bill Hathaway, President of MoreSteam.com, argues the case for Lean Six Sigma Training to make more use of Blended Learning models.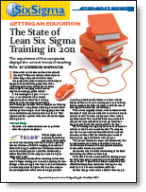 The State of Lean Six Sigma Training in 2011*
iSixSigma Magazine Investigative Report, March/April 2011
*Features five Blended Learning training programs, including Hertz, Nationwide, and Bridgestone Americas (MoreSteam customers)
The Blended Learning Manifesto
Bill Hathaway, MoreSteam.com

Worksheets
e-Learning Cost Calculator
This Blended Learning Calculator is a Microsoft® Excel® spreadsheet that can help you to compare your cost of e-Learning and Blended Learning vs. a traditional instructor-led program.

Recorded Presentations
Flipping Your Lean Six Sigma Training: Getting the Blend Right
Andrea Church, Sr. Director of Global Organization Excellence at Hertz, Bill Casey, National Director of Lean Six Sigma Training for Quest Diagnostics, and Larry Goldman, VP Marketing at MoreSteam.com
Building the Business Case for Lean Six Sigma e-Learning
Doug Evans, Master Black Belt and former Director of Lean Six Sigma training at Quest Diagnostics, Michelle Johnson, Executive Director Textron Six Sigma, and Bill Hathaway, MoreSteam.com
Intrusive Coaching: Increasing Your Belts' Capability, Confidence, and Control
Dr. Diane Reddy, Professor at the University of Wisconsin-Milwaukee, Keith Schellenberger, Lean Six Sigma Consultant at Lenovo, and Bill Hathaway, CEO of MoreSteam.com
Chasing ZERO at Cardinal Health: We Got Game
Holly Stein, Director of Operational Excellence at Cardinal Health, and Bill Hathaway, MoreSteam.com
Advanced Lean Six Sigma Blended Training Model at The Ohio State University
Peg Pennington, The Ohio State University, and Bill Hathaway, MoreSteam.com

Presentation Slides
The Comparative Effectiveness of Web-Based and Classroom Instruction: A Meta-Analysis
Traci Sitzmann, Advanced Distributed Learning

Web Sites & Blogs
Clive on Learning - Blog by Clive Shepard on e-Learning and Blended Learning topics
eLearn Magazine - Web site covering all aspects of eLearning and Blended Learning
Sloan-C Blended Learning Research Publications - Site that collects and shares resources for educators and administrators

Textbooks (Non-Lean Six Sigma)
The Handbook of Blended Learning: Global Perspectives, Local Designs (Hardcover)
Curtis J. Bonk and Charles R. Graham
The Online Learning Idea Book: 95 Proven Ways to Enhance Technology-Based and Blended Learning (Paperback)
Patti Shank
The Blended Learning Cookbook: v. 2 (Paperback)
Clive Shepherd (Author), Hanif Sazen