Lean Six Sigma Blended Learning Examples

Recorded Presentations
Flipping Your Lean Six Sigma Training: Getting the Blend Right
Andrea Church, Sr. Director of Global Organization Excellence at Hertz, Bill Casey, National Director of Lean Six Sigma Training for Quest Diagnostics, and Larry Goldman, VP Marketing at MoreSteam.com
Chasing ZERO at Cardinal Health: We Got Game
Holly Stein, Director of Operational Excellence at Cardinal Health, and Bill Hathaway, MoreSteam.com
Building the Business Case for Lean Six Sigma e-Learning
Doug Evans, Master Black Belt and former Director of Lean Six Sigma training at Quest Diagnostics, Michelle Johnson, Executive Director Textron Six Sigma, and Bill Hathaway, MoreSteam.com
Advanced Lean Six Sigma Blended Training Model at The Ohio State University
Peg Pennington, The Ohio State University, and Bill Hathaway, MoreSteam.com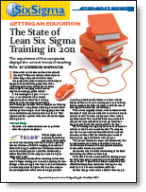 Articles
iSixSigma Magazine recently released an investigative report examining how five diverse organizations have adapted their training strategies to create a unique blended learning models that fit their complex and changing needs.
The report features five Blended Learning deployments. Three of those are MoreSteam's customers: Hertz, Nationwide, and Bridgestone Americas.
Read "The State of Lean Six Sigma Training in 2011"
The Blended Learning Playbook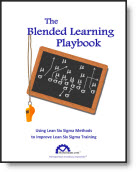 The Blended Learning Playbook by MoreSteam.com is the first and only practical guide dealing with the design and implementation of a Blended Learning model for Lean Six Sigma training.
This guide draws on our expertise and the experiences of our customers, featuring eleven process improvement organizations who are using Blended Learning. The free excerpt (Chapter 1) includes a case study of Quest Diagnostics.