The Basics of Blended Learning
We define Blended Learning as: a Lean Six Sigma training model that integrates multiple delivery modes and learning activities.
This blend is generally a mix of e-Learning, classroom exercises, coaching and job-like applications, used to effectively reach a globally and educationally diverse employee audience.
This basics page covers the following topics:
The Benefits of a Blended Learning Model
Cost Savings
By minimizing expensive face-to-face instruction and travel, as well eliminating the direct costs of printing and shipping training materials, you can save at least 50% from your budget.
Other cost benefits that are present but harder to quantify include: reduction of administrative overhead for scheduling classes, and the benefit of on-demand e-Learning reference resources.
Better Prepared Graduates
With Blended Learning, your students spend up to 60% of their time in practice, with classrooms used for hands-on workshops rather than lectures.
Professionals who graduate from training models that emphasize practice are better prepared to complete projects, accelerating the rate of project completion.
More Student Flexibility
The e-Learning component features a lot size of one, so participants can start at any time with no lead time. The online portion of the model is self-paced, which results in a faster path to self-sufficiency for training graduates. Students can also focus on the areas of knowledge that are most difficult and replay those lessons as often as needed.
More Instructor Flexibility
Instructors benefit because by spending less of time in the classroom, they can devote more time to project completion and coaching. With more coaching and interaction, struggling students do better and do not adversely affect the progress of the best students. View our recorded Webcast on "Intrusive Coaching" to learn more.
More Organizational Flexibility
Your organization can easily integrate on-demand blended training with the day-to-day needs of the business. As a result, students are not obligated to miss one week of work every month during the training wave.
Training Consistency
Not all Master Black Belts and Black Belts are equally good instructors. A Blended Learning model that uses e-Learning in place of live lectures eliminates instructor variability. This consistency translates into more qualified training graduates.
Training Aligned with Projects
With Blended Learning, your organization can align its training objectives with strategic objectives. Using integrated project tracking and management tools like MoreSteam's TRACtion, deployments can tightly link the learning to the project. Students learn new tools in each Phase when they need them rather than at an unrelated time when the tools are not relevant.
Designing a Blended Learning Model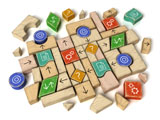 When planning for a Blended Learning training model, you must answer three critical questions:
What skills and tools do our employees need to learn to solve problems and generate improvement?
What instructional tools are available to me?
How can I combine learning activities to best appeal to the learning style and culture of my organization?
Every organization approaches the design of a Blended Learning program with a unique perspective and set of circumstances. Some companies are looking to bolster their mature deployments, which have relied purely on time-intensive live training classes.
Others are weaning themselves from expensive consulting firms and looking for ways to deliver standardized, cost-effective training. Still others are small firms that need just-in-time training for a geographically dispersed staff.
What online and offline learning components are available to you?
Can your IT department support a dedicated Intranet or file server? Do your employees use social tools (e.g., online chat, Web research) to learn and share advice and best practices?
Take the time to see how your culture is learning - and learning best - as you consider the training design that is best for your organization.
The Most Common Components
Below you will find a list of the most common components used in successful Lean Six Sigma Blended Learning deployments.
> Interactive e-Learning
Purpose: Effective online courses with easy navigation, interactive exercises and quizzes. Students learn the basics online, on their own time.
Details: High-quality e-Learning includes:
Clear explanations of ALL concepts and tools,
Sufficient real-world examples of concepts and tools,
Ample opportunity for student practice and individual problem solving,
Easy access, loading and features to support multiple learning modalities (i.e., audio options, interactive gadgets, legible font, and intuitive navigation), and
The ability to customize the look, feel and content of the course.
Do not settle for an e-Learning program that does not include all of these features. Learn more about the best practices of online training.
> Simulations of DMAIC & Lean Projects
Purpose: Provide risk-free real-world practice in the classroom to better prepare students for tool use and project completion
Details: Simulations are the critical bridge between learning and doing, knowing and showing. See MoreSteam's simulation section to learn more.
> Live and Recorded Webinars
Purpose: Share past project successes and best practices with current students
Details: What is critical to the longevity of an organization's Lean Six Sigma program is how knowledge is stored and made accessible to future waves of Belts. By recording sessions, including teleconferences, lectures, and even tollgate reviews, project data and past project work can be reviewed and perpetuated as best practices.
> Online or Paper-based Testing
Purpose: Students and trainers monitor the understanding of content in an objective and immediate way
Details: Adult learners enjoy the instant feedback that a quiz score gives. Testing gives students a progress report - not a final grade.
> One-on-one Coaching
Purpose: Students mentoring, either in person or virtually, including project tollgates
Details: There is no substitute for a healthy mentoring relationship. Schedule (and keep) regular meetings with students as they work through projects.
> The "Study Hall"
Purpose: Live or online catch-up days with online virtual check-ins and group discussion
Details: e-Learning often takes a backseat to the urgencies of day-to-day work. Schedule regular study halls to provide students with the opportunity to focus completely on working through content, solving problems with classmates, or discussing projects with MBBs.
This kind of just-in-time training relieves students of some of the pressure associated with self-paced programs and helps develop their time management skills and avoid work-time distractions.
> High-quality Support Literature
Purpose: Books and references for hands-on learning
Details: There are many good hard copy and online texts and handbooks on Lean and Six Sigma. Find a few that align with your organization's application and keep them around for student references. Many students feel more comfortable with a book for just-in-case situations.
Delivering the Blended Training
The actual delivery design of the blended model is driven by the geography of the participants and the technology available to the MBB/instructors.
In the case of Green Belt training, one prototypical model is shown below, representing a three- to four-month total timeline.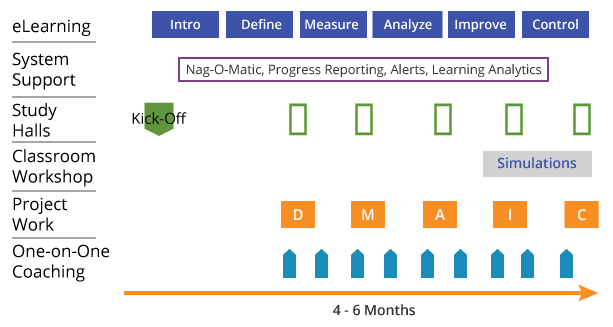 One of the key goals is to eliminate instances of travel for both cost and flexibility reasons.
In the common situation where class participants are geographically distributed, it makes economic sense to holder fewer, longer classroom events rather than frequent shorter events.
When the geography is more centralized, such when the participants are all from a single large location, the classroom workshop can be broken into two shorter sessions, positioned after the Define work is completed, and again after Control. This flexibility in the scheduling and delivery of discrete portions of the training is just one of the reasons why a Blended Learning model is popular, effective, and lean.
A successful Blended Lean Six Sigma Training program is designed to produce high performing and confident Lean Six Sigma practitioners.
Deployment leaders must recognize that proper learning involves more than rote memorization, strong test-taking skills and an understanding of DMAIC. Learning also involves practice, making mistakes, critical thinking, and focus during periods of ambiguity.
How can you learn more?