ASQ Six Sigma Training and MoreSteam.com
MoreSteam partners with top educational, consulting and industry organizations throughout the world. Since 2001, MoreSteam.com has served as the exclusive provider of online Lean Six Sigma training for the American Society for Quality.
American Society for Quality (ASQ)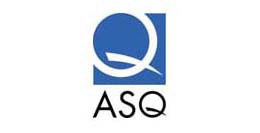 ASQ is committed to advancing individual and organizational performance excellence worldwide by providing opportunities for learning, quality improvement and knowledge exchange. ASQ operates its learning Web site as an online forum dedicated to linking individuals and companies to quality related online training programs and course material.
ASQ also provides instructor-led training services in the field of Lean Six Sigma and Six Sigma process improvement, among others, to its members and customers on a worldwide basis.
MoreSteam.com

MoreSteam.com is a leading global provider of Lean Six Sigma training, software and content. MoreSteam's courseware is made available over the Internet to ASQ members and subscribers from all over the world. MoreSteam's courses are delivered in an on-demand, asynchronous, multimedia format that includes audio, audio slide shows, simulations, interactive practice sessions, online quiz modules and facilities for virtual discussion with an instructor.
MoreSteam and ASQ: An Ongoing Partnership
As the world's leading membership organization devoted to quality, ASQ must ensure that all of its training courses - online and live - meet a high standard of content and competence. ASQ's continued selection of MoreSteam as a provider of Lean Six Sigma training is conditioned on MoreSteam's ability to meet ASQ's Quality Standards, which are verified through occasional peer reviews by established, ASQ-selected Subject Matter Experts.
MoreSteam also keeps the content provided to ASQ member subscribers current with industry standards and provides timely customer support. Professionals who complete the ASQ online or Blended Learning courses use these curricula to help prepare for the ASQ Certified Black Belt and Green Belt examinations, just as they would the instructor-led ASQ training courses.
Working Towards the Future
In addition to providing courses for the ASQ Learning Institute, ASQ and MoreSteam also cooperate to better serve the Lean Six Sigma and Six Sigma process improvement communities. In recent years, MoreSteam and ASQ have collaborated on the development and expansion of high-quality, cost-effective learning delivery options such as Blended Learning, which has been shown in many studies to be a more effective training model.
MoreSteam has enjoyed its long and evolving association with ASQ. As a long-time sponsor of ASQ's Annual Six Sigma Conference, MoreSteam.com regularly reaches out to the ASQ members and MoreSteam graduates for guidance on how to improve its Lean Six Sigma e-Learning courses and meet the needs of individuals and organizations in the quality world.
How to Learn More about MoreSteam.com
MoreSteam offers a variety of online courses, from Black Belt training to Design for Six Sigma to Lean Methods. To learn more, you can view our online Lean Six Sigma course catalog or read more about the benefits of online high-quality Lean Six Sigma eLearning here at the MoreSteam Web site. You can also contact MoreSteam.com directly for a course demonstration.